How to (Really) Erase Data From Old Smartphones
By Sid Kirchheimer , September 12, 2014 11:06 AM
Whether you're eyeing the new iPhone 6 or another smartphone, to help prevent identity theft, you should remove all data stored on the device you're trading, selling or recycling.
>> 9 Nasty Things to Throw Away Today
But it takes more than simply hitting delete or restoring your old phone to its factory settings. To prove it, the folks at antivirus software maker Avast recently bought 20 used Android smartphones on eBay. All purchased phones were supposedly clean of the sellers' data, and yet they retrieved:
• More than 40,000 stored photos (including hundreds of salacious, potentially compromising reposts)
• 750 emails and texts
• 250 contact names and addresses
They even recovered a completed loan application. Not the kind of stuff you want in the wrong hands.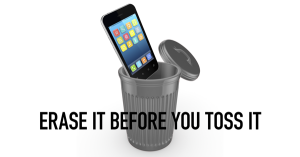 So come trade-up time, to make data truly unrecoverable, Consumer Reports recommends taking these steps on your old phone after backing up any files you want to keep and removing microSD and SIM cards:
iOS
For the iPhone 3GS or later (as well as third-generation iPod Touch and all iPads), data should automatically be encrypted once a screen-locking passcode is enabled. If you haven't set a passcode in iOS, do so by tapping Settings, then General, then Passcode.
Once encryption is enabled, go to Settings, then General, then Reset. A warning appears that the next step will erase all your media and data, followed by a red Erase button. Push this and within minutes your iPhone is clear and ready to sell, trade or toss.
Android
Many Android phones don't support hardware-based encryption, but you can use enabling software. Plug in your Android device before encrypting, which can take an hour, and, if necessary, set up a PIN or password to generate the encryption keys. Go to Settings, then Security, then Screen Lock, and PIN or Password. Then create a PIN or password. Now go to Settings, then Security, then Encrypt. A warning screen will advise you that the process will take time and can't be undone without resetting your phone. You'll also have to provide your PIN or password before proceeding.
After your device has finished encrypting its data and rebooted, you'll have to again enter your PIN or password to get back into Android. Once there, you're ready to factory-reset the device. Those steps vary by manufacturer; for Samsung devices, go to Settings, then Accounts. Scroll down to Backup Options, tap Backup and Reset, then Factory Data Reset.
BlackBerry
Go to Options, Security Options, General Settings, and then set a password. Next set Content Protection to Enabled. Choose the option to encrypt your address book, as well. Once that's done, make sure your phone is plugged in, and follow these detailed instructions from BlackBerry to reset. Or just go to Settings, tap Security, then tap Security Wipe.
Enter your password, confirm that you want to reset the device, tap the Wipe Data button, and wait for the process to finish.
>> Get discounts on electronics with your AARP Member Advantages.
Windows Phone
Most Windows Phone 7 devices lack on-device encryption. Newer Windows Phone 8 devices support encryption, but the typical consumer can't switch it on. Encryption must be enabled via paid service by Microsoft Exchange's business e-mail client or the Intune enterprise cloud-based device-management system.
To reset Windows Phones, go to Settings, then About, then Reset Phone. In Windows Phone 8, you'll have to tap through two warning screens before deleting all your data. You can force the device to overwrite your old data by manually filling up the phone's internal storage with nonsensitive files.
For information about scams, sign up for the Fraud Watch Network . You'll receive free email alerts with tips and resources to help you spot and avoid identity theft and fraud, and gain access to a network of experts, law enforcement and people in your community who will keep you up to date on the latest scams in your area.
Also of Interest

See the AARP home page for deals, savings tips, trivia and more.