It's Moving Season! 8 Tips to Prevent Relocation Rip-Offs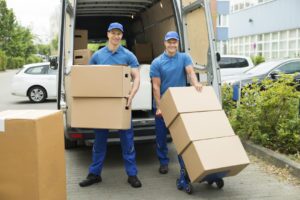 With two-thirds of relocations occurring between now and the end of August, summer is peak moving season — and prime time for a type of strong-arming that's more about tricky tactics than the size of a hired hauler's biceps.
The scam starts with an initial reasonable (if not lowball) estimate by a mover, complete with "in good hands" assurances. But after the truck is loaded, the quoted price jumps sky-high, and your belongings may be held hostage until you pay the extra money. This ruse, typically the work of smaller rogue companies that may advertise on Craigslist or crude roadside signs, especially targets active military personnel making base-change relocations, but anyone is vulnerable.
Smart moves to avoid hiring the wrong moving company:
1. Get recommendations from friends, family or real estate agents — don't rely solely on advertisements — and then visit protectyourmove.gov, a website of the Federal Motor Carrier Safety Administration, which licenses interstate movers. There you can verify a moving company's licenses and complaint history, get tips about hiring qualified movers and file complaints about bad ones.
Ways to save, expert investment advice, scam alerts and more! — AARP Money Newsletter »
2. Know the red flags. Pass on any mover who won't do an on-site inspection of your goods (instead giving a sight-unseen estimate), won't provide a written estimate or says workers will determine the price after loading, demands a large deposit before the move, or asks you to sign blank or incomplete documents.
3. Beware of movers who answer the phone with generic greetings such as "Movers" or "Moving company," rather than a specific company name; who have no website or one that doesn't include a local address and information about their registration or insurance; or who arrive on moving day with a rental truck, rather than a company-marked vehicle.
4. Know your rights and responsibilities. This handbook is worthwhile reading, and it's federally required that movers provide customers with a copy in the planning stages of interstate moves.
5. Understand costs and estimates. Generally, you can't be charged more than the mover's regulated rates and charges, which you have a right to see, notes Consumer Reports. But movers may be allowed to charge you more than the estimate (typically about 10 percent higher). You can avoid this by asking for a "binding estimate," which will give you a fixed price but is generally higher than the more common "nonbinding estimate," which is based on predicted weight, volume or moving time.
6. Movers typically provide minimal insurance but upsell higher "replacement" coverage. It may be a wise purchase for peace of mind, but first check if your homeowner's policy covers items lost or damaged in a move.
7. Get an order for service, which lists what the mover will do, as well as pickup and delivery dates. Also ask for a bill of lading, which is a contract between you and the mover; a receipt for your belongings; and an inventory list showing each item you shipped and its condition. (Get a written copy of the inventory after your goods are loaded.)
Discounts on financial services from trusted companies — AARP Member Advantages »
8. Moving boosts your risk of identity theft. To protect yourself, click here to learn what to do before, during and after a move.
For information about other scams, sign up for the Fraud Watch Network. You'll receive free email alerts with tips and resources to help you spot and avoid identity theft and fraud, and gain access to a network of experts, law enforcement and people in your community who will keep you up to date on the latest scams in your area.
Photo: AndreyPopov/iStock
Also of Interest

See the AARP home page for deals, savings tips, trivia and more.