New Amazon Phishing Scam: 'Confirm Your Information' to Process Order
By Sid Kirchheimer , December 02, 2016 08:00 AM
A convincing new phishing scam threatens Amazon shoppers just as the online behemoth announced it will offer Black Friday–type bargains as often as every five minutes all the way through Dec. 22.
These bogus emails (below), purportedly sent by Amazon and already rampant in the United Kingdom and Australia, have the subject line "Your Amazon.com order cannot be shipped."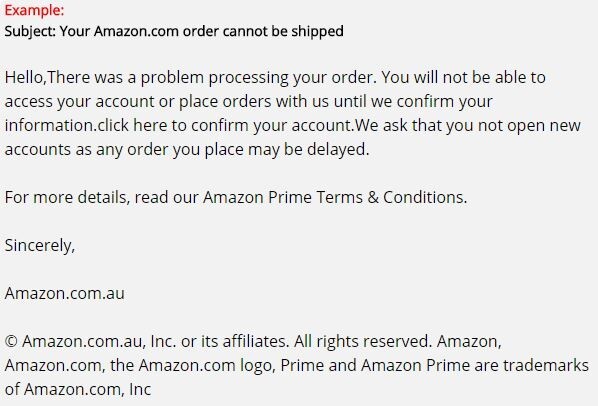 Claiming there is a problem processing orders, the message says, "You will not be able to access your account or place orders with us until we confirm your information."
A "click here" link leads to this authentic-looking page (below) to confirm your name, address and credit card information (including expiration and CVV security code) — everything fraudsters need to make unauthorized charges.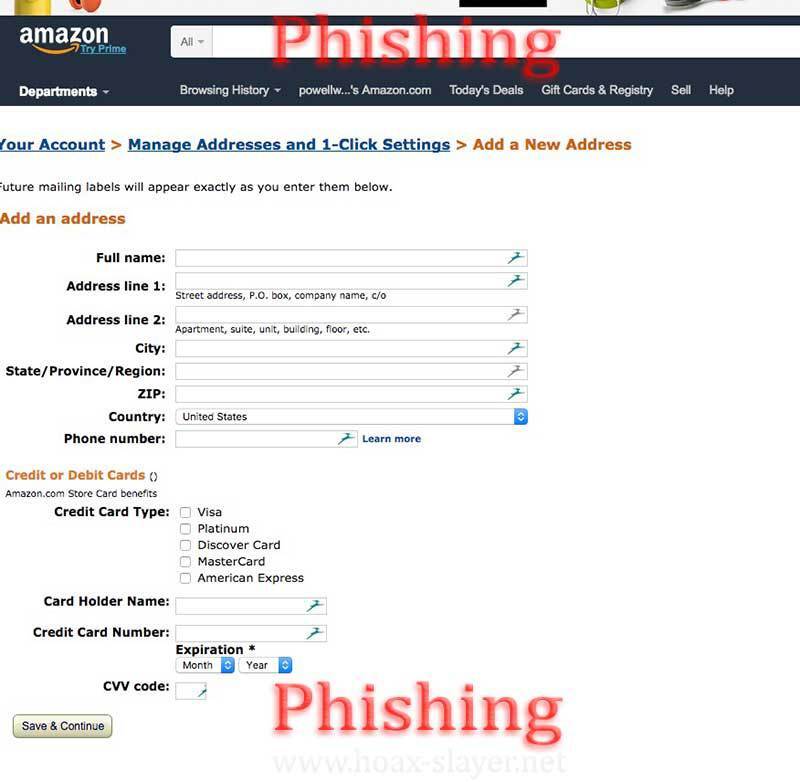 Ways to save, expert investment advice, scam alerts and more! — AARP Money Newsletter »
After entering that sensitive data and hitting the Save & Continue tab, consumers are stealthily redirected to the actual Amazon website, none the wiser that they just gave cybercrooks carte blanche to their plastic.
Don't take the bait. Rather than ever clicking on an embedded link from Amazon (or any other online retailer), go to Your Orders to determine if there is an order that matches the details in an email. If they don't match, the message isn't legitimate, notes Amazon.
This latest scheme isn't the only Amazon-related gotcha these days.
There's been a recent uptick in a years-old ploy in which DirecTV impostors call existing subscribers and potential new customers, claiming this bogus promotion: By purchasing a $300 Amazon gift card and using it to prepay for services, DirecTV users can get a discounted monthly rate and additional channels. Although DirecTV has promotions that give Amazon or other gift cards to those initiating new service agreements, it does not solicit payment that way. What's more, Amazon gift cards cannot be used anywhere except on the company's own website.
Meanwhile, just weeks ago the Federal Trade Commission busted a telemarketing scheme involving five companies that falsely claimed to be affiliated with Amazon. According to an FTC complaint, the defendants' telemarketers would falsely tell seniors, veterans and others that for fees up to several thousand dollars, they could create a website linked to Amazon.com to earn thousands per month in commissions for work-at-home sales.
AARP Member Advantages — discounts on financial services from trusted companies »
For information about other scams, sign up for the Fraud Watch Network . You'll receive free email alerts with tips and resources to help you spot and avoid identity theft and fraud, and keep tabs of scams and law enforcement alerts in your area at our Scam-Tracking Map .
Screen shots: Sid Kirchheimer
Featured Photo: sturti/iStock
Also of Interest

See the AARP home page for deals, savings tips, trivia and more.