Protect Yourself and Your Dog From Pet Scams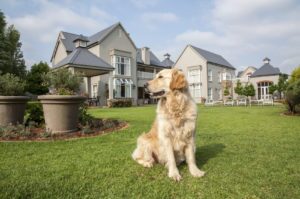 Pet scams may not fetch the publicity of other schemes, but they certainly continue with dogged persistence. As hundreds of businesses and thousands of pet parents celebrate Take Your Dog to Work Day, check out these pet scams still in the works.
Dognapping
As the name implies, pets (usually dogs) are snatched from unattended backyards, cars or even while in the company of owners. Thieves then wait for a reward to claim for safely returning the pet, or they brazenly hold it for ransom. Increasingly, these are becoming serial crimes.
Dognapping sometimes can't be prevented, but microchipping pets is a great defense. These tiny integrated circuits, implanted under an animal's skin, are not GPS trackers, but they have a number that, once registered, can be scanned to identify lost pets. And pets are considered by the legal system as property, making a stronger case for criminal charges. Microchipped or not, missing pets should be reported to the police or your local animal control officer; that way, if someone subsequently requests a reward for a "found" pet, your on-file report puts you on stronger ground if you take legal action. And when posting "lost" ads and fliers, do NOT offer a reward, because that may only incentivize the criminals.
Ways to save, expert investment advice, scam alerts and more! — AARP Money Newsletter »
Pet "Flipping"
In this offshoot, crooks post ads on Craigslist or in local newspapers, trying to "flip" to unsuspecting new families beloved household pets that they stole or found. In some cases, rightful owners see ads for their MIA mutts and try to reclaim them, only to have their pleas for a safe return ignored by the perpetrators, who can reap a greater profit elsewhere. (Flipped pets usually wind up in unknown locations, leaving owners with little chance of a reunion.) There are even isolated cases in which fraudsters reply to "free-to-good-home" postings placed by owners who can no longer keep their animals — and then sell them.
If your pet goes missing, check local Craigslist postings and newspaper "found" classifieds. Although many scammers communicate solely by email, which is hard to track, pet flipping often necessitates providing a phone number for a quicker and easier sale. Police may be able to use that number to track down the thief.
Online Puppy Sale Scams
In these schemes, swindlers set up websites, claiming to be breeders or rescue organizations. Using stolen photographs of adorable puppies and inventive backstories, they offer to sell nonexistent dogs for up-front payment — or offer them for free. Either way, expect to pay additional fees (allegedly for permits, health certificates, insurance, shipping, boarding, etc.) until you're bled dry or finally wise up.
These scams are often perpetrated by overseas criminals, so look for frequent misspellings and scammer grammar in advertisements. Beware of any seller who wants to correspond only by email, and realize that legitimate breeders don't sell their dogs sight unseen. Money requests by wire transfer and prepaid debit card should also raise red flags; they're scammers' preferred payment methods because they're harder to track and can be redeemed anywhere — and not necessarily where the seller claims to be.
Animal Control Impostors
This hoax involves scammers posing as animal control workers, threatening to impound a family pet due to alleged complaints unless the owners pay a fine immediately (usually in cash).
Although these crooks may carry business cards or badges suggesting they're from the animal control department or a third-party provider working on its behalf, you'll get real proof by placing a call to the official agency. You'll likely be told that its employees don't demand on-the-spot payment to prevent them from seizing your dog.
Pet Rescue Scams
Indeed, legitimate volunteer and nonprofit rescue groups do outstanding work and often rely on donations of money and supplies. Scammers know that people's love for pets is perfect for pulling on owners' heartstrings — and wallets — by seeking donations over the telephone, in door-to-door visits and online.
Discounts on financial services from trusted companies — AARP Member Advantages »
In some cases, you may not just lose a quick buck but risk identity theft in providing financial account numbers to strangers. You can't trust caller ID, as displayed numbers can be spoofed. Scammers also create phony rescue websites, so check the domain origin at WhoIs.net and the organization's reputation at bbb.org or with breeder associations. Officials say that most unsolicited charitable requests that come via email from groups that you did not support previously are fraudulent. Don't give at the front door before independently checking the group's reputation: Legitimate charities will provide written information that you can verify.
Puppy Mill Maladies
Many puppies sold in pet stores, at flea markets and over the Internet come from puppy mills, usually legal but inhumane facilities where dogs are often kept in filthy cages without medical care or adequate food. As a result, they are often sick when purchased or develop illness shortly thereafter.
The good news: At least 21 states have puppy lemon laws that protect buyers — with refunds, replacement pets or payment for veterinary care — who purchase animals that are later found to have diseases or defects. (These laws typically do not include pets adopted from rescue or municipal animal shelters.) Still, even if your state is included, it is wise NOT to purchase any pet online.
For information about other scams, sign up for the Fraud Watch Network. You'll receive free email alerts with tips and resources to help you spot and avoid identity theft and fraud, and keep tabs of scams and law enforcement alerts in your area with our Scam-Tracking Map.
Photo: JfJacobsz/iStock
Also of Interest

See the AARP home page for deals, savings tips, trivia and more.