Reduce Fraud Fallout Before and After a Wallet Goes Missing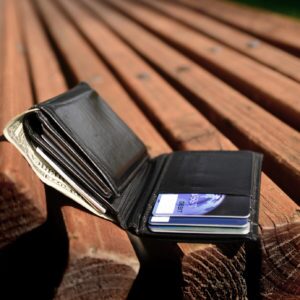 Along with death and taxes, there's a third certainty of life: At some point, your wallet will go AWOL. Whether it's just temporarily missing under a seat cushion or swiped by a thief and never returned, prepare now because a lost or stolen wallet often results in identity theft.
First things first: Reduce your risk by removing these items from your wallet:

Your Social Security card. Unless you're heading to an SSA office, leave it somewhere safer than in a billfold. Ditto for your birth certificate.
Cheat sheets that detail PINs or passwords for bank cards or online accounts.
Spare keys for your home or car.
Blank checks.
Unless you're seeing a new doctor, don't carry your Medicare card around; with or without it, you'll get emergency medical care. If you feel you must have the card, be safer: Make a photocopy, blocking out several digits of the SSN, to keep in your wallet.
Ways to save, expert investment advice, scam alerts and more! — AARP Money Newsletter »
Another proactive precaution: On your home printer, line up every card you keep in your wallet — driver's license, credit and debit cards, insurance cards, even your library card. (ID thieves may also steal books, videos and music in your name; overdue fees could affect your credit score.) Make a copy of the front and back of this plastic lineup, and keep these printouts in a safe place at home. If you discover that your wallet is truly MIA, you have instant access to all your account numbers, security codes and contact information.
If your wallet goes missing, here's what to do:
1. Contact your bank to change your PIN, and cancel (and replace) your ATM card. Get a new checking account if your checkbook is missing. If you report the loss before someone uses your ATM or debit card, you have zero liability, but your liability increases as time passes — if you report the loss within two days, your liability is $50; between two and 60 days, your liability is $500; after 60 days, your liability is unlimited.
2. Contact all credit card issuers and request an account number change. Don't say you want to cancel the account, as that may be misinterpreted to mean you want to close it, which could hurt your credit score. Under federal law, if you report the loss before your card is used fraudulently, you are not liable; if you don't, your liability is limited to $50, which is usually waived.
3. File a report with your local police department and where you think your wallet went MIA. This will establish a record of your loss, so get a copy of the report. You may need to make photocopies to send to your bank, insurance company and credit reporting bureaus.
4. Place a fraud alert or security freeze with Experian at 888-397-3742 (experian.com), Equifax at 800-525-6285 (equifax.com) and TransUnion at 800-680-7289. While alerts are free, they must be renewed every 90 days and are not as secure. Freezes are stronger, indefinite (unless you lift them) and free for those 65 and older (younger people may have fees).
5. Contact the DMV about a replacement driver's license. Also request that a stolen/lost wallet warning be placed in your file.
6. Call insurers. Request a replacement card (or account number) from private medical insurers; contact Medicare if you're a recipient. Notify your auto insurer, to avoid problems if a thief has an accident using your policy. Ask if your homeowners policy includes ID theft protection.
Discounts on financial services from trusted companies — AARP Member Advantages »
7. Follow up: In the next few weeks, pay close attention to bank and credit card statements, looking for withdrawals and charges. If you did steps 1, 2 and 6 quickly, you are unlikely to spot anything, but if you see any transactions you don't recognize, tell the provider immediately.
8. Check your credit history two to four weeks later. Visit www.annualcreditreport.com or call 877-322-8228 for your free report, and then look under "Inquiries." Why wait? This provides enough time for thieves to apply for credit in your name, but generally before new cards are issued. Check your credit report again in two to three months.
For information about other scams, sign up for the Fraud Watch Network. You'll receive free email alerts with tips and resources to help you spot and avoid identity theft and fraud, and gain access to a network of experts, law enforcement and people in your community who will keep you up to date on the latest scams in your area.
Also of Interest

See the AARP home page for deals, savings tips, trivia and more