Spring Cleanout? Beware of Seasonal Scams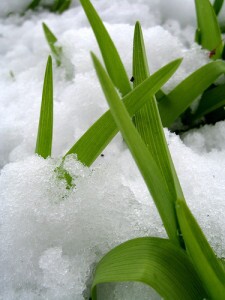 After a polar-vortexing bear of a winter, spring has sprung (finally!) - at least according to the calendar. So now's the time to prepare for scammers who spring into action, trying these perennial ploys:
Home Repair Scams
They may promise deals on asphalt paving, roof work or other "needed repairs" they happen to spot from their pickups or by going door to door. But beware of any "con"-tractors who then request upfront payment under the guise of having to buy materials; they're more likely to hit the road with your cash than head to the hardware store.
Click here for other red-flag phrases that indicate a likely impending rip-off. Other clues to use to spot potential trouble:

Out-of-state license plates suggest fly-by-day "gypsy" scammers who travel state to state and often seek out elderly homeowners. Legitimate contactors, in high demand, rarely have to travel far and likely don't go door to door to solicit business.
They arrive unexpectedly in pairs. They could be burglars; one tries to divert you to join him outdoors or in the basement while another swipes money, jewelry or medications.
If you need home repairs, get recommendations from trusted friends and neighbors. Then seek (and verify) referrals for short-listed contenders, check reputations with the Better Business Bureau and contact your local courthouse to determine if any lawsuits were filed against that contractor for incomplete work.
>> Sign up for the AARP Money newsletter
Door-to-Door Sales Scams
From spring through fall, expect all types of salesmen to come knocking - literally. Some may be legit, others are not.
Magazine sales are especially popular bait preying on older Americans. Scammers may feign some fund-raising initiative, but often charge triple the typical subscription rate. The sad result is that after upfront payment, the issues never arrive. (It's not the publication's fault; rather unscrupulous third-party vendors who feign an allegiance.) So it's best to buy only from neighborhood kids you recognize and who are selling on behalf of a legitimate school fund-raising ventures.
When in doubt, give yourself time to check the offer out - researching prices, product quality and the seller's reputations. If you do buy from a door-to-door salesperson, realize that anything costing $25 or more falls under the Federal Trade Commission's "cooling-off rule" that gives you three days to cancel for a full refund. So act quickly if you have buyer's remorse (especially when dealing with strangers), and be suspicious of any front-door peddler who doesn't mention the cooling-off rule during a sales pitch.
Sweepstakes Scams
Although occurring year-round, these tend to proliferate in spring and early summer, with an onslaught of incoming letters and email notifications that you won some contest. But you'll only lose if asked to pay upfront processing fees or other expenses before you can receive your jackpot - sometimes by forwarding some amount of an accompanying check (which later proves to be counterfeit). In reality, you never have to pay to collect winnings from an authentic prize. And if you didn't enter, you certainly didn't win.
If you want to try your luck, read these stay-safe tips before entering any sweepstakes.
>> Get discounts on financial services with your AARP Member Advantages.
Tax Scams
Bogus emails purporting to be from the IRS are always common during tax season - and as filing deadline approaches, beware of emails touting new forms.
After April 15, phishers unveil especially enticing bait: The phony promise of a fat refund or scare tactics that there's a "problem" with a filed return.
Either way, know that the IRS does not use email to issue forms, refund notifications or "problem" warnings. But scammers do - providing links that download computer malware or requesting personal information (including Social Security numbers) that could be used for identity theft. If the IRS wants to reach you, expect notification to be delivered by the U.S. Postal Service.
Photo: Nancy Sims/Flickr.com
For information about other scams, sign up for the Fraud Watch Network . You'll receive free email alerts with tips and resources to help you spot and avoid identity theft and fraud, and gain access to a network of experts, law enforcement and people in your community who will keep you up to date on the latest scams in your area.
Also of Interest

See the AARP home page for deals, savings tips, trivia and more