Students the Latest Target of IRS Scammers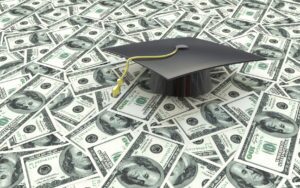 College students and others who have student loans are the latest target of IRS impersonators. In this iteration of the ongoing, widespread scam, fraudsters threaten arrest and other penalties unless a nonexistent "federal student tax" is paid immediately.
Sound familiar? For years, con artists posing as IRS agents have telephoned citizens, claiming they owe back taxes and making similar threats of impending arrest, deportation and seizure of property unless the alleged debt is paid immediately with untraceable prepaid debit cards or wire transfers.
Ways to save, expert investment advice, scam alerts and more! — AARP Money Newsletter »
With students, iTunes gift cards have also been added to the payment methods. "No one from the IRS will ever ask you to wire money or pay by sending iTunes gift cards or reloadable prepaid cards. That's a scam, every time," the Federal Trade Commission states in a warning about this new student tax scam. (The IRS also issued a warning.) "In fact, the IRS will never contact you by phone first. If you owe money for an actual tax, the IRS will send a letter first."
As with other targets, IRS impersonators use caller ID spoofing to make their calls believable, often displaying the name and actual phone number of the IRS or another government agency. Other times what's displayed is 911 or the financial aid office of the student's school.
To further appear legitimate, the caller provides specific nuggets about the student — his or her name, school attended, even when student loans were taken out and their amount. Students and borrowers are then told they owe a federal student tax — a fee that doesn't exist.
This isn't the first government impostor scam targeting students. Last year the FBI first warned that swindlers pretending to be FBI agents and spoofing the agency's phone numbers on recipients' caller ID were phoning students at numerous universities, threatening them with arrest and the inability to graduate unless they submitted payment (via MoneyGram wire transfer) for supposed delinquent student loans, taxes or even overdue parking tickets. That ruse continues.
Scammers can get students' names, numbers and other details from college directories and, according to Consumer Reports, "websites that offer lists of college student data, including telephone numbers."
Discounts on financial services from trusted companies — AARP Member Advantages »
So pass the word to the young 'uns. The same rules apply if they get unexpected phone calls from the IRS, the FBI or even a tax preparation service claiming dire fallout unless back taxes are paid right away.
1. Hang up. If they call back, don't answer.
2. Never provide or confirm personal or financial information to phony tax reps or other self-described government agents.
3. Don't send money. If you really owe taxes, the IRS will notify you by U.S. mail, not by phone (or email, text, carrier pigeon, etc.). Legitimate law enforcement and other officials don't give warning of impending arrest.
For information about other scams, sign up for the Fraud Watch Network. You'll receive free email alerts with tips and resources to help you spot and avoid identity theft and fraud. Keep tabs of scams and law enforcement alerts in your area at our Scam-Tracking Map.
Photo: Terminator3D/iStock
Also of Interest

See the AARP home page for deals, savings tips, trivia and more