Taking Aim at Veterans' Nest Eggs
By Sid Kirchheimer , November 11, 2016 11:01 AM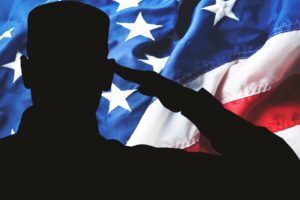 Military veterans are frequently targeted by fraudsters, but perhaps the most insidious are self-described "veterans advocates" who take aim at retirement nest eggs.
Some promise lump-sum cash payouts for veterans' pensions and future benefits. But officials warn that those advances typically pay only pennies on the dollar of the pension's actual worth and can carry loan shark-like interest rates (reports range up to 106 percent). Some charge hefty fees for services like filing pension or other claims or getting military records, which can also lead to a risky path, including providing sensitive information for possible identity theft.
Ways to save, expert investment advice, scam alerts and more! — AARP Money Newsletter »
Among the more common and crushing cons is persuading older vets to transfer secure retirement assets into an irrevocable trust or to invest in insurance products on a usually bogus guarantee they can be eligible for additional benefits.
The usual pitch, made by unscrupulous financial planners, attorneys and insurance agents at free-lunch seminars at restaurants or education workshops in community centers and elder care facilities: By transferring funds their way, the family can appear to be impoverished, enabling the veteran to meet requirements for an enhanced pension with Aid and Attendance (A&A), a Veterans Affairs program that pays an additional benefit to low-income veterans 65 and older who need help with daily living tasks.
"These so-called advisers may claim to be veterans to gain your trust, and they appeal to your emotions to create anxiety and apprehension about your future," notes the Federal Trade Commission. "As a rule, they leave out important details; the truth is that if you follow their advice, you're likely to end up without the supplemental pension benefits they promise, disqualified from other government benefits, and stuck in a financial investment that's not in your or your family's best interest for the long term."
Here's why:

The qualifications for A&A are specific and strict. In addition to meeting low-income criteria and being over 65, candidates must be eligible for a military pension and need help with daily living tasks such as bathing, feeding and dressing; be physically or mentally incapacitated; have severely limited eyesight; or be confined to bed or in a nursing home. A&A is never granted automatically just for being a certain age or having particular disabilities, the FTC explains.
So-called advocates may say that jockeying retirement savings is a smart move to get A&A and other benefits because the VA doesn't examine veterans' asset histories in determining eligibility for a pension. True, the VA doesn't look at why (at least on paper) you may be a millionaire one day and appear poverty-stricken the next. But Medicaid does, and it penalizes people for moving funds around before seeking coverage by denying claimants coverage for a period that can range from months to several years.
The new trust recommendation usually involves purchasing annuities, long-term investments considered inappropriate for many older retirees. Some annuities must be held for a decade or more before they pay out a monthly income. They are heavily pitched because of high sales commissions — buying a $500,000 annuity, for instance, could yield the agent $75,000 for just a few hours of work.
Veterans, Military and Their Families: Check out great stories and resources from AARP

What else to know?
If you're a vet, don't be fooled by official-sounding names. Some sales agents operate as, or work with, front organizations with patriotic names, or they falsely claim they are also veterans, are affiliated with the VA or other groups, and have nonprofit status.
Don't depend on nursing homes, community centers and assisted living facilities to protect you. They may be unaware of the shady nature of the seminars and often are paid a fee to let volunteers give presentations.
For credible information on how to qualify for A&A and other veterans benefits, contact your state veterans affairs agency at nasdva.net. And before investing, check the agent's record at your state regulatory office. To file complaints on sales of an annuity or other insurance product, contact your state insurance regulator and your state bar association if you believe that an attorney behaved unethically.
For information about other scams, sign up for the Fraud Watch Network. You'll receive free email alerts with tips and resources to help you spot and avoid identity theft and fraud, and keep tabs of scams and law enforcement alerts in your area at our Scam-Tracking Map.
Photo: Anchiy/iStock
Also of Interest

See the AARP home page for deals, savings tips, trivia and more.