The Hidden Costs of Free Trials
Burn fat, grow hair, or remove wrinkles while you sleep. Earn thousands a day working from home. Learn about "secret" government grants that are yours for the asking.
The promises are priceless - and so are the products, quite literally.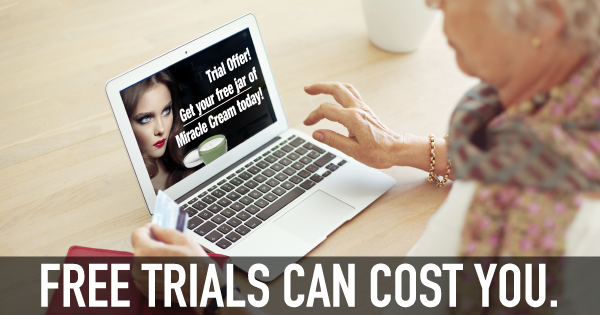 Or so you're told. But the common outcome of free trial offers: After providing your credit card for a small shipping and handling charge, your plastic may be bombarded with recurring charges that quickly add up. Reasons: It's not uncommon to receive multiple "monthly" orders shipped within days of each other for merchandise you wanted - and perhaps other merchandise you never asked for.
>> Top Seasonal Scams to Avoid
And when you try to stop the deliveries and cancel your "no risk" enrollment, your phone calls, emails or letters to the company go ignored. Or when you manage to reach someone, you may be told you missed the cancellation deadline.
Birthed decades ago as "clubs" to sell music and books, this dubious practice is known as negative option marketing, in which automatic charges for future products or services continue unless you jump through hoops to cancel a fine-print agreement.
Problem is, buyers often don't read the fine print...if they are even able to find it.
Such was the case with one Fraud Watch Network devotee who ordered an "anti-aging" skin cream touted with a no-risk, free trial period. Three shipments arrived in quick succession - "and on each packing slip, the price said zero. But in checking my credit card bill, we were charged $75 for both the second and third orders."
When the buyer complained, customer reps said the free-trial cancellation period had already ended - yet its ordering website makes no mention of that time frame. What is prominently posted: "Making a false claim of fraud is a criminal offense and will be reported." Although this customer received a full refund after disputing the charge with his credit card issuer, others are not as lucky.
>> Don't Miss These Birthday Freebies and Discounts

Recent research by AARP finds that online fraud victims are more than three times more likely to respond to free trial offers than other computer users who weren't scammed. Historically, free trial offers have made annual " Top Scams" lists by the Better Business Bureau and others.
So before you click, know this:

The cancellation window generally starts the moment you place your order, not when you receive it. In some cases, unscrupulous vendors purposely don't ship that initial "free" order until after the period has ended in hopes that you can't cancel in time. So mark the calendar if a cancellation period is mentioned. If not found in the Terms & Conditions, assume likely hassles.
Watch out for pre-checked boxes. That checkmark may give the company the green light to continue the offer past the free trial or sign you up for more products - only this time you have to pay.
Never order without doing an online search of the company and words such as "complaints," "reviews" and "scam." Despite claims of money-back guarantees, many consumers find they can't reach company reps to get refunds. Others complain the product doesn't deliver on its promise.
Compare costs. After the initial freebie, some products ordered via free trial memberships cost far more than their counterparts on store shelves, which have no monthly memberships and can be more easily returned with a receipt.
Are they safe and effective? Over-the-counter health products - such as those promising easy weight loss - make claims with no scientific basis. Many evaluated by credible, independent researchers have been shown to be useless, if not possibly dangerous.
Don't trust third-party endorsements. Fake product endorsements are often attributed to alleged customers or celebrities (Doctor Oz and Oprah have sued scores of companies for this). Also be wary of claims "as seen on" legitimate news websites; they may be paid advertisements - or fake news sites.
Too good to be true? Indeed. In truth, legitimate government grants are typically for student aid, for conducting research, or for businesses in particular industries; they're available for free on official government websites including grants.gov, studentaid.ed.gov and sba.gov. Various vendors of work-at-home "free trial" products have been sued for fraud by the FTC and others.
If you still want to order, print copies of your order, cancellation and return policies, andmake a habit ofcarefully checking your payment card statements for any unauthorized charges by the company. If you see charges you didn't agree to, contact the company directly and if that doesn't work, call your credit card issuer to dispute the charge. Don't rely on slips accompanying the shipment.
For information about other scams, sign up for the Fraud Watch Network . You'll receive free email alerts with tips and resources to help you spot and avoid identity theft and fraud, and gain access to a network of experts, law enforcement and people in your community who will keep you up to date on the latest scams in your area.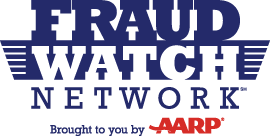 Also of Interest

See the AARP home page for deals, savings tips, trivia and more.