The Latest Power Play in the Utility Shutoff Scam
By Sid Kirchheimer , February 05, 2016 10:00 AM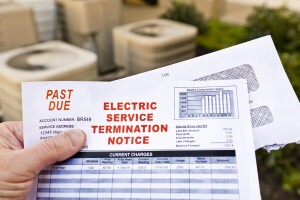 Once again, the nation's most notorious cold-weather scam is red-hot, with a blizzard of warnings from utility companies about the shutoff swindle. In this years-old scheme, impostors call customers and threaten to cut off their power unless they immediately pay a bogus bill.
This scam routinely soars as temperatures drop but also resurfaces during peak air-conditioning season. The initial call is scary enough, especially when you need heat or AC the most. Pretending to be a utility employee, a "live" impostor warns victims that their service will be disconnected unless they make payment with a prepaid debit or credit card. Your name and "service" address can be gleaned from online public directories.
Ways to save, expert investment advice, scam alerts and more! — AARP Money Newsletter »
In the latest twist to add con-vincability, some scammers use robocall-type systems that mimic the legitimate company's automated voice phone system. Frightened customers are provided a phone number. "When they call that number, they hear interactive voice-response prompts that imitate those they would hear when calling the real PSE&G customer service line," warns that New Jersey-based utility, which has been spoofed this way. "When a fake representative answers the line, they ask for the number on the back of the prepaid card." That serial number is needed for scammers to make purchases and cash withdrawals with victims' money.
It's another example of how telephone technology benefits swindlers. IRS, tech-support and other impostors often use robocalls to blast millions of scam calls daily, for pennies per minute. Popular voice over Internet protocol (VoIP) phone lines and "spoofing" software let fraudsters display on your caller ID the name and real phone number of your utility company, the IRS, etc. — and quickly change those numbers while operating anywhere in the world.
Protect yourself by knowing that:

Although some legit utilities accept prepaid debit and credit cards, they don't demand this method of payment. Prepaid cards are preferred by scammers because they are equivalent to sending cash, are hard to trace and can be used most anywhere. Credit card numbers can be used online or cloned onto duplicate cards for a quick spending spree until alert customers and/or card providers spot fraudulent charges.
If you really have an outstanding balance, expect to be mailed at least one written notice, if not several, before service is terminated.
When in doubt, check it out by calling the toll-free phone number listed on past bills or on your provider's website, not what is provided by a live or automated phone call. Expect that authentic company reps will have your account information on a computer screen. So, with a past bill in hand, ask the rep to cite it; scammers cannot and will hang up.
Unlike personalized robocalls about prescription refills and doctor appointments, scammer calls won't mention your name or other personal identifiers. That's because your phone number is typically selected arbitrarily (among thousands or millions of others) and called with autodialers to receive the same message.
With NoMoRobo, customers of these VoIP service providers can block at least some robocalls; however, this free and valuable call-blocking service doesn't work with analog landlines or wireless phones. Although most caller ID-displayed numbers are spoofed, help the Federal Trade Commission identity and pursue fraudsters by filing a complaint with the agency and its National Do Not Call Registry.
Get discounts on financial services from trusted companies — AARP Member Advantages »
For information about other scams, sign up for the Fraud Watch Network . You'll receive free email alerts with tips and resources to help you spot and avoid identity theft and fraud, and gain access to a network of experts, law enforcement and people in your community who will keep you up to date on the latest scams in your area.
Photo: WendellandCarolyn/iStock
Also of Interest

See the AARP home page for deals, savings tips, trivia and more.