The Procrastinator's Guide to Gift-Giving Gotchas
By Sid Kirchheimer , December 23, 2016 08:00 AM
Still haven't checked off everyone on your holiday Nice List? Naughty you! Whether you're a bona fide procrastinator who still can't decide (tick-tock), enjoy the thrill of that 11th-hour gift hunt, or are just in dire need of a calendar, beware of this season's Grinchiest gotchas.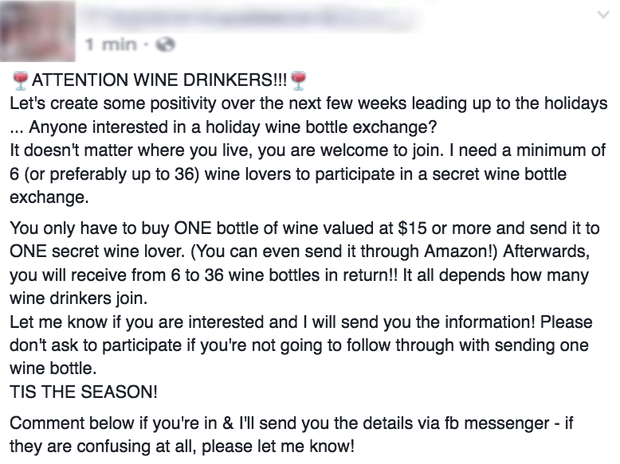 Facebook gift exchanges. Buy one item and get up to 36 for free? It sounds like Secret Santa Shangri-la for Johnny-come-latelies and BOGO fans, but these Facebook-viral come-ons are scams. This season, the biggies are the "Secret Wine Bottle Exchange" and "Secret Sister Gift Exchange," a repeat rip-off from last year. The wine scam asks that you mail one $15 bottle of wine for the friend who tags you. Then if you copy and paste the post to friends, you supposedly receive six to 36 bottles. The sister con promises that if you buy one $10 gift, you'll get up to 36 in return. Both messages are strikingly similar, suggesting the work of the same humbugs.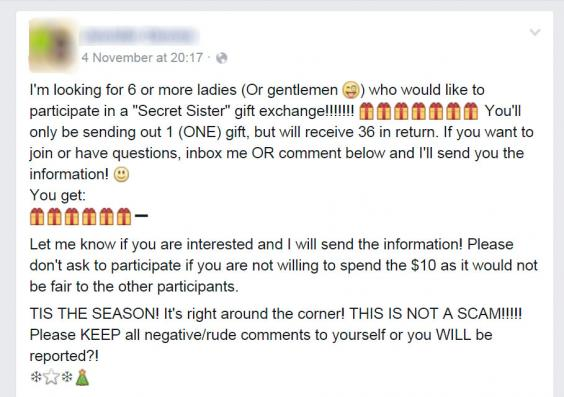 Bite on either offer and you'll get nothing in return except possible computer malware and your contact information could wind up on a sucker list as a target for future scams. These are illegal pyramid schemes, "mathematically impossible to sustain," the U.S. Postal Inspection Service said in a warning last yule about the sister scam.
Free gift cards. Pop-up ads or emails offering free gift cards are often a ploy to get your personal information for identity theft or to deliver computer malware. One ruse making the rounds this season via text message promises a free gift voucher from Amazon, which, depending on the version (there are several), is valued as much as $1,000.
Ways to save, expert investment advice, scam alerts and more! — AARP Money Newsletter »
Seriously? It's just another Amazon-spoofing phishing scam; this time, you're asked for email-address verification or to click a link that could provide cybercrooks with remote access to what's stored on your mobile device. Other offers for free gift cards — usually pretending to be from well-known entities including Walmart, Best Buy, Target and even AARP (also supposedly for as much as $1,000) — typically require personal information to claim your freebie and may require that you complete a consumer survey that could result in a barrage of unwanted phone calls, pop-up messages and spam; malware to compromise your smartphone or computer; or even identity theft.
Delivery deception. If you're still online shopping for holiday gifts and happen to come across promises of "guaranteed delivery" by Christmas morning, steer clear. That procrastinator-targeting ploy is most certainly from swindlers who won't deliver — literally — but are happy to collect your credit card information.
The bigger issue: when you're told by email that they can't deliver. Such bogus shipping emails claiming to be from retailers or services such as FedEx, UPS or the U.S. Postal Service always explode during the holiday season. No matter the subject line or message (a tracking update, problem with delivery, supposed receipt), the gotcha is in an embedded link promising details or requesting action. Click it and what is delivered is another solicitation of personal or financial information, such as credit card details or malware — or both. Information on legitimate delivery-tracking notices should be in text form, not including links that promise details.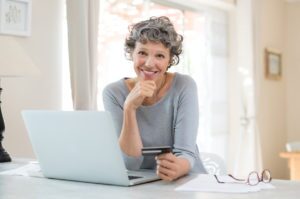 Charity scams. 'Tis the season for giving and a peak time for taking. Historically, about 40 percent of charitable donations are made in December, and with only a week left for last-minute tax deductions (note that, procrastinators), expect charity scammers to continue full throttle. Be suspicious of unsolicited emails unless you previously donated to a particular charity or cause and already provided it with your email address. Although legitimate charities call for donations, especially this time of year, so do caller ID–spoofing scammers, so don't provide your credit card number unless you initiate the call. Legit front-door solicitors should provide informational materials you can authenticate before giving cash or an in-hand check.
During the holidays, older donors are most often targeted in scams feigning help for police, firefighters, veterans and sick children. But no matter the cause, beware of sound-alike names of well-known organizations. And before donating, check with Charity Navigator, CharityWatch or the Wise Giving Alliance to ensure the charity is legit and your money is well spent.
AARP Member Advantages — discounts on financial services from trusted companies »
For information about other scams, sign up for the Fraud Watch Network . You'll receive free email alerts with tips and resources to help you spot and avoid identity theft and fraud, and keep tabs of scams and law enforcement alerts in your area at our Scam-Tracking Map .
Photo: Ridofranz/iStock
Also of Interest

See the AARP home page for deals, savings tips, trivia and more.