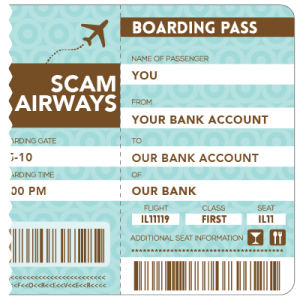 As you look forward to a summer getaway, watch out for these common scams:
Tricky tickets: Received a letter promising free or steeply discounted airline or cruise tickets? Read the small print - and between the lines - for words such as "eligible" and "guaranteed to win." These mailers are often sent by vacation clubs as a lure to attend a high-pressure sales presentation where you're promised huge travel discounts. The hook: You join by paying upfront fees that could approach five figures and hard-to-cancel annual dues. But the deals often aren't delivered, say officials, resulting in a flood of complaints.
Seen a deal for free tickets from "U.S. Airlines"? The name is a play on the legitimate carrier U.S. Airways, and the latest example of this common trick. This time, it's sent by Access Travel Deals, which has ties to American Travel Deals, an Arizona-based company rated "F" by the Better Business Bureau. Name changes are not uncommon, for both vacation clubs and the airlines they spoof: Past pitches promised tickets from nonexistent " American Airways" and "United Airways"; both real carriers end with "Airlines."
Online ticket scams: Emails offering airline tickets or confirmations usually pose a different risk: A details-promising attached link that releases computer malware. They also spoof airlines, whose real confirmations usually have details in the body text, not an attached link. Also beware of unsolicited phone calls and emails offering vacation freebies - in exchange for personal information or credit card numbers under the guise of a "reservation" or "deposit."
Rental ripoffs. In online classifieds, scammers tout enticing rentals at bargain prices - often stealing photos and descriptions of legitimate listings. The goal is upfront payment, often by wire transfer or prepaid debit card - and sometimes personal information with a bogus lease. These ads show up on Craigslist, travel sites, newspaper websites and phony real estate websites that the crooks themselves create.
Before you book, at the minimum do an online search of the address (you may see it "for sale" on legitimate Realtor websites) and cut-and-paste blocks of text from the ad. Also check names, emails and phone numbers of the supposed agent or landlord on Google or a public directory such as whitepages.com. Sometimes, you'll find a nonexistent location - or the address of a warehouse or business that doesn't provide suitable accommodations. You're safest booking travel arrangements with a credit card; be suspect of vendors who won't accept it.
The grandparents scam. The kids also have vacation, and summer means an uptick in this notorious ruse where scammers pose as loved ones in need of your help - and money - after supposedly being arrested or hurt. Don't buy it. You'll get burned ... and not in trying to get a tan.
Destination deceptions. A phone call to your hotel room from a "clerk" claiming a problem with your credit card after check-in? Check it out by calling the front desk yourself; it could an identity thief using a lobby phone. Also be suspect of under-the-door flyers for food delivery that demand upfront credit card payment when you place your order. Your pizza may never arrive - only unauthorized charges to your plastic. The front desk can recommend reputable local vendors: Pay only in cash after food is delivered.
Tips for a fraud-free vacation:
Notify credit card companies: Before leaving, notify credit card issuers when, where and how long you'll be traveling. This helps fraud departments stop bogus charges if your plastic is used where you're not - and reduces risk that your cards will be frozen due to "unusual activity" when you try to use them in a distant location.
Weed out your wallet: It's wise to weed out your wallet, taking only essential identifiers like your driver's license and just two credit cards - one to carry, another to be locked in a hotel room safe in case your wallet is pilfered. Don't carry your Social Security or Medicare card (you'll get emergency care without the latter if needed).
Protect your credit: If you're traveling for several months, consider a credit freeze you can unthaw upon your return. No matter how long you vacation, closely examine future credit card bills for fraudulent charges by crooked store clerks and waiters who handle your plastic. Also run your credit report about three months later at www.annualcreditreport.com to ensure no fraudulent accounts have been opened with your identity.
For information about other scams, sign up for the Fraud Watch Network . You'll receive free email alerts with tips and resources to help you spot and avoid identity theft and fraud, and gain access to a network of experts, law enforcement and people in your community who will keep you up to date on the latest scams in your area.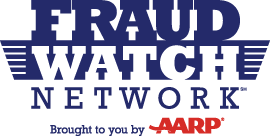 Also of Interest

See the AARP home page for deals, savings tips, trivia and more