Thumbs-Down: The Facebook 'Dislike' Scam
By Sid Kirchheimer , September 25, 2015 09:40 AM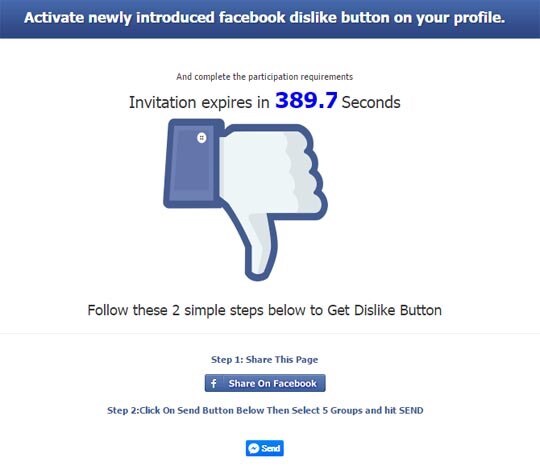 You may like the news that Facebook is working on a much-anticipated "Dislike" button. But don't be too eager to test it out.
On Facebook news feeds, there are posts claiming that you can get early installation of a Dislike button on your profile. Don't believe it.
If you click on the link, you'll be directed to "intrusive surveys in an attempt to gather your personal information as well as asking for your account credentials," reports Hackread.com, which broke the news of this latest malware campaign.
The scam comes in the wake of widely publicized reports that Facebook is working on a Dislike button. During a Sept. 15 live-streamed Q&A session, founder and CEO Mark Zuckerberg was asked why Facebook offers only a Like button. "Why don't you have other options, like 'I'm Sorry,' 'Interesting' or 'Dislike'?"
Simple ways to save a buck, expert investment advice, scam alerts and much more! » AARP Money Newsletter
Here's his response. You decide if he actually confirmed a specific Dislike button, per se, or, as many now speculate, one (or more) options to express empathy, support or solidarity. It might be useful, for example, to add a "Sympathize" button, which would be better suited for bad-news posts such as announcing that someone has died. Facebook friends may "like" the touching tribute but certainly not the death.
"It's important to give people more options than just Like" to help express empathy and sympathy, said the boyish billionaire. "Not every moment is a good moment."
Semantics aside, there's plenty to dislike about this new Facebook scam, including clues of a ruse. "Get newly introduced facebook [with lowercase F] Dislike button on your profile" reads the grammatically challenged headline, claiming that the feature is currently by "invite-only." To fuel a quick click of the troublesome link, there's a time-remaining ticker.
Besides giving fraudsters information they can use to hack your Facebook account after you answer their questionnaire, there's more possible fallout:
"Scams like this trick you into liking pages and sharing the link with your friends, using the bait of something alluring (a dislike button, a shocking video, a celebrity wardrobe malfunction, and so on...)," notes computer security blogger Graham Cluley.
Get discounts on financial services from trusted companies — AARP Member Advantages »
"In some cases they will even lead you to pricey, premium-rate mobile phone subscriptions, online surveys that generate the scammers income, or trick you into downloading malicious code onto your PC. In other cases, scams like this have been used in the past to gain access to your Facebook profile and post messages under your name, helping scammers spam out messages to others."
For information about other scams, sign up for the Fraud Watch Network . You'll receive free email alerts with tips and resources to help you spot and avoid identity theft and fraud, and gain access to a network of experts, law enforcement and people in your community who will keep you up to date on the latest scams in your area.
Also of Interest

See the AARP home page for deals, savings tips, trivia and more.