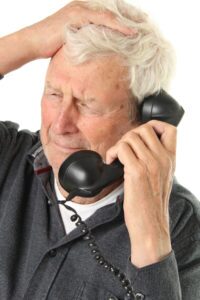 Chalk up 2016 as another year of role-playing rip-offs: Fake IRS agents threatening arrest or deportation unless immediate payment is made for supposed back taxes. Fake grandchildren claiming trouble while overseas and in need of their loved ones' financial help. Fake warnings of dire consequences for supposedly missing jury duty, avoided only by paying a fine and providing personal information for likely identity theft.
Continuing a three-year trend, the IRS impostor scam was again the ruse most reported in 2016 to the AARP Fraud Watch Network Helpline (877-908-3360 toll-free) and to the Better Business Bureau. Use of the scheme declined significantly after officials in India raided nine call centers outside Mumbai in late October, arresting 70 people. But until then, live and automated phone calls from self-described IRS agents were generating a reported $150,000 a day by threatening Americans, many of them retirees, with the bogus claim that they owed back taxes. The IRS reports getting nearly 1 million complaints about such telephone trickery, and more than 5,000 citizens have lost some $26 million to scammers in recent years.
Ways to save, expert investment advice, scam alerts and more! — AARP Money Newsletter »
"We were surprised how quickly the calls [to our Helpline] stopped and how slowly they are to pick up again when it comes to complaints about that particular scam," says Amy Nofziger of AARP Foundation. She manages the Fraud Watch Network Helpline, which fielded some 20,000 calls in 2016, a 25 percent increase over 2015. But as IRS-impostor calls have dwindled in recent months, other government gotchas are on the uptick, she says, such as bogus grants and other aid-related ruses to glean up-front fees and personal information that could be used for identity theft.
Joining the IRS scam in the most-reported category of impostor scams were the grandparents scam and the jury duty scam, Nofziger says. The other top scams of 2016, which nearly mirror the 2015 list:
Sweepstakes and lottery scams. The name and prize "winnings" in conning contests may differ, but not the lies: To claim your touted bounty, swindlers say you must first pay up front for alleged taxes or processing fees. Don't be fooled by partial-payment checks sometimes mailed with congratulation letters — they're counterfeit, and you're on the hook for funds drawn from their deposit. In legitimate contests, no up-front fees are required to claim winnings, and if you win a state lottery, it's on you to notify the state lottery commission, with winning ticket in hand.
Tech-support scams. These impostors claim to be from Microsoft or other tech companies and lie about a supposed computer virus. It's a ruse to sell bogus repairs and software, and to get remote access to your computer's files and log-in credentials for future fraud. Noteworthy: In November and December, as IRS-impostor calls decreased, tech-support scam calls increased.
Identity theft. From stealing wallets and mail to sophisticated data breaches, con artists have many ways to glean personal information for financial gain and to get medical services in your name. Problem is, it can take years for many to realize they've been victimized. So, in addition to taking advantage of government-mandated free credit reports and preventing fraudsters from opening credit accounts in your name with a security freeze, practice these other easy ways to reduce your risk.
AARP Member Advantages — discounts on financial services from trusted companies »
Phishing. With today's spam filters blocking more than 99 percent of old-school junk messages, emails that mine for sensitive information have gotten more sophisticated; workplace accounts were an especially popular target in 2016. Phishing attempts on social media also exploded, with inventive schemes such as fake customer-support pages to intercept real messages tweeted to banks and other trusted companies so that criminals could steal log-in and financial account information. These cons joined tried-and-true tricks like gotcha giveaways and survey swindles.
For information about other scams, sign up for the Fraud Watch Network . You'll receive free email alerts with tips and resources to help you spot and avoid identity theft and fraud, and keep tabs of scams and law enforcement alerts in your area at our Scam-Tracking Map .
Photo: HannamariaH/iStock
Also of Interest

See the AARP home page for deals, savings tips, trivia and more.