Tracking Cookies Hard to Stomach? How to Stop Them
By Sid Kirchheimer , September 11, 2015 02:59 PM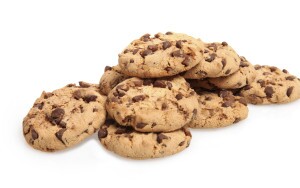 You know the drill: You visit a website — to price sneakers, view kitchen countertops, whatever — and when you continue to surf the Internet, you're stalked by advertisements for Nikes and granite.
This happens because of browser-tracking cookies, small files that websites store on your computer about you and your preferences. Cookies not only track your online activity (in theory, for more efficient future website visits) but also create a profile of you that is sold to advertisers.
Get the latest tips on protecting your money and saving for retirement — AARP Money newsletter »
So-called first-party cookies come from the sites you access, and they can be useful: You avoid having to reenter the same information on subsequent visits. But third-party cookies that haunt you from site to site can be harder to stomach.
Software such as CCleaner can identify and remove existing third-party cookies on your hard drive. To prevent future third-party (or all/select) cookies, you need to change your browser settings.
Internet Explorer
1. Click the Tools menu and select Internet Options.
2. Click on the Privacy tab, then select Advanced.
3. Check the box Override automatic cookie handling, and select Accept, Block or Prompt for both first- and third-party cookies, or allow all. Then hit OK. (To block or allow cookies from specific sites, follow these instructions under that heading.)
Google Chrome
1. Click the three-lined icon in the top-right corner of your screen.
2. Select Settings, then click Show advanced settings.
3. In the Privacy section, click Content settings.
4. Under Cookies, check Block third-party cookies and site data, and then Done.
Firefox
1. Click the three-lined icon in the top-right corner.
2. Select Options (if using a PC) or Preferences (Mac).
3. Click the Privacy tab and under History, set Firefox will: to Use custom settings for history, and change Accept third-party cookies to Never. (Visit here for details on blocking all cookies or those from particular sites.)
Get discounts on financial services from trusted companies — AARP Member Advantages »
Safari
Third-party cookies are automatically turned off, but to double-check, go to Privacy and select the option that blocks third-party cookies.
For information about other scams, sign up for the Fraud Watch Network. You'll receive free email alerts with tips and resources to help you spot and avoid identity theft and fraud, and gain access to a network of experts, law enforcement and people in your community who will keep you up to date on the latest scams in your area.
Photo: zoomstudio/iStock
Also of Interest

See the AARP home page for deals, savings tips, trivia and more.