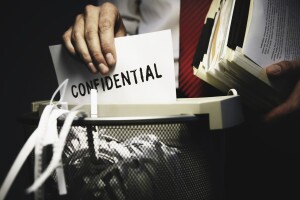 April showers? With spring cleaning and the end of tax-filing season, what really "reigns" this month are free shredding events held across the country — including dozens hosted by our Fraud Watch Network and AARP Foundation — to safely destroy unneeded paperwork that could help crooks steal your identity.

Granted, shredding shouldn't be your sole defense. ID theft is more likely to result from data breaches, computer malware, a lost or stolen wallet and other devious methods, including thieves buying sensitive information on the scammer black market, instead of searching for it among discarded eggshells and coffee grounds. Still, at organized shred fests with monster machines or at home with a more compact confetti maker (always use a "micro-cut" or crosscut model), shredding is a simple step to add another layer of protection, not to mention more storage or shelf space.
Ways to save, expert investment advice, scam alerts and more! — AARP Money Newsletter »
Here's what to shred and when, according to the Federal Trade Commission (FTC):
Immediately shred (or bring to upcoming events) sales and cash-withdrawal ATM receipts, paid credit card statements and utility bills, expired warranties, unsolicited credit card offers and canceled checks that are not tax related. Also, remove and shred pharmacy labels before tossing empty prescription bottles.
Within a year, destroy pay stubs (after cross-checking with your W-2 or other tax forms), bank statements, and paid and undisputed medical bills.
After seven years, shred tax-related receipts, canceled checks, W-2 and 1099 forms, and records for declared tax deductions. Although the FTC recommends keeping (and not shredding) tax returns indefinitely, the Internal Revenue Service says that if you file a claim for a credit or refund, you can shred old returns three years from the date you filed the original return or two years from the date you paid the tax, whichever is later.
When no longer needed, expired passports and driver's licenses, copies of birth certificates, old insurance policies and résumés should be shredded. Keep your auto title until you sell the vehicle, and home deeds and home improvement receipts for as long as you own the property. Save disputed medical bills until the issue is resolved.
Never shred — and, in fact, ideally store in a locked or bank safe deposit box — the following:

Original birth and marriage certificates
Social Security cards
Divorce decrees
Citizenship and adoption papers
Death certificates of family members
Active passports (even if you're not traveling)
College diplomas
Military records
Wills and trusts
Power of attorney paperwork
Active life insurance policies
Discounts on financial services from trusted companies — AARP Member Advantages »
For information about other scams, sign up for the Fraud Watch Network . You'll receive free email alerts with tips and resources to help you spot and avoid identity theft and fraud, and gain access to a network of experts, law enforcement and people in your community who will keep you up to date on the latest scams in your area.
Photo: TommL/iStock
Also of Interest

See the AARP home page for deals, savings tips, trivia and more.