After 30 Years of Marriage, Now He Wants Porn?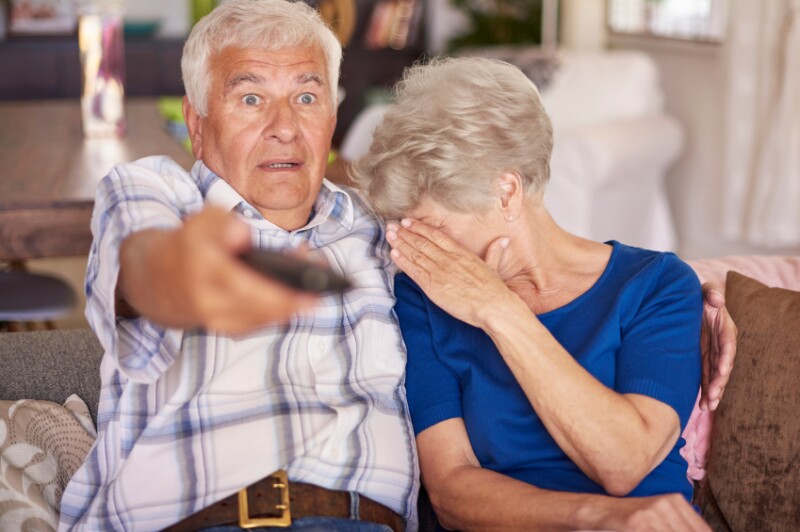 Q: My husband of 30 years suddenly insisted on introducing pornography into our marriage. (He also wanted us to be "swingers." I said no.) I tried instructional sex videos, but stopped when they turned into mere porn.
This is my second marriage, and I had other partners between marriages. I like oral sex and multiple positions, but my husband now calls me a prude, rigid, superstitious Christian zealot for refusing to watch these sex videos. At his insistence, we now sleep in different bedrooms.
I'm lonely; should I "wait it out" or leave him? I'm still attractive, but I'm pushing 70 and losing my eyesight.
A: Gotta hand it to Hubby — not too many men imagine they're up to the sexual athletics of swinging at 70! But you don't have to take part in any act that doesn't feel right to you.
It sounds like your husband has been watching a lot of porn and is hell-bent on actualizing his fantasies. But why does he need you to watch these videos too? He seems to have been enjoying them just fine on his own. Might he be hoping the porn will "motivate" you to try something with multiple partners? I think that's what's behind all this: He means to punish you for refusing to visit his kinky playground.
Porn isn't the worst thing in the world, you know. If you get the right stuff, it can be very erotic, and places like goodvibes.com and nerve.com have options respectful of women's sexual tastes. For most people, porn is simply an enjoyable habit or dalliance. Both the American Sexual Health Association and Surgical Neurology International have advised on the safe use of porn and refuted the notion of porn "addiction."
Research shows that no more serious consequences are likely to result from viewing porn than increased masturbation, and there's certainly no harm in that. Nor is porn consumption associated with a rise in antisocial behavior. Indeed, one study showed that a 10 percent increase in Internet access across states (which included lots of porn) correlated with a 7 percent decrease in reported rapes .
If you ask me, the biggest problem with porn is that people watch these staged acts and then try to reproduce them in real life. Not gonna happen!
Maybe you could offer your husband an olive branch: You could view the occasional bit of porn with him if he will see a marriage counselor with you. The road back to a shared bedroom may lead through the office of a good therapist.
Photo: gpointstudio via istockphoto.com