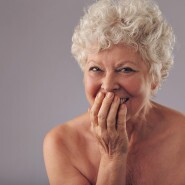 Q: You omitted an entire group of people in your article for AARP The Magazine on "Sex After 50." There are those of us who are wa-a-ay over 50 and still enjoy sex, even though it's solo.
I don't know about men, but I really think women stay more alive and "with it" in every way when they self-pleasure. I have some very good mechanical friends that I enjoy; care to comment on that for the group you overlooked?
A: Hmm, looks like I fell into the very trap I was warning others to avoid! I talked about people having sex into their 60s, 70s and 80s, but — shame on me — neglected those in their 90s.
A new you within reach — Visit AARP Life Reimagined »
The fact is, sex is a vital addition to one's life at any stage of the life cycle. And though aging's various side effects may interfere with some of one's previous sexual abilities, there is no reason we can't enjoy sexual contact at any age.
As you indicate, using a vibrator or some other device can keep our sexual appetite and satisfaction alive even when no partner is available. And many people continue to enjoy partnered sex well into the upper age brackets. Indeed, whereas most individuals' sexual frequency slows after age 70, their sexual satisfaction typically does not. A study by demographer Linda Waite, for example, found that 75 percent of women and 80 percent of men over age 80 were extremely pleased with their sex lives.
Another study — this one of men and women aged 80 to 102 and in good health — found that two-thirds of the men and one-third of the women still enjoyed "frequent" sexual intercourse, defined as once a week or more. Not only that, but 8 of 10 respondents said they were usually or always orgasmic. These findings confound, if not explode, the hoary stereotype about older people having no interest in sex.
To the field's discredit, most research on human sexuality lumps everyone together once they hit 70, rarely examining our ninth or tenth decades individually. (If adult children are uneasy about acknowledging that Grandma has a sex life, just imagine how they'll struggle to process the notion of an aroused Great-Grandma! Still, that squeamishness is something we must change.)
The surest predictor of an older person or older couple's degree of sexual satisfaction is not age, but health. People who have complications such as advanced arthritis, or who take certain medications (such as those for diabetes, heart disease or stroke), may be physically unable to have sexual intercourse. Yet many people surmount those obstacles — and cope well with lesser challenges.
A 2011 study showed that older men require more time to get an erection or reach orgasm, yet the same study revealed few complaints from their partners about these effects. And whereas many older women do experience lubrication issues, a 2005 study by the Agency for Healthcare Research and Quality showed that two-thirds of women have no severe vaginal discomfort.
Enjoy life with our popular games, delicious new recipes, the latest movie review and more! — AARP Leisure Newsletter
Bottom line? Just because your frequency of intercourse may be dropping with age, there's no reason your satisfaction has to decline alongside it.
So thanks for taking me to task for my gaffe! With a partner or alone, sex after 90 can be as hot as you like it.
Photo: Jacob Ammentorp Lund via iStock.com
Also of Interest:

See the AARP home page for deals, savings tips, trivia and more.