Who Wears the Panties in This House?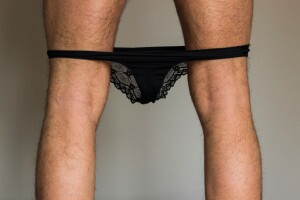 Q: I am a 50-year-old male. I shave my legs for various reasons, and my wife is OK with it. (She's even told me how sexy it is in bed.) I also wear thong-style and men's nylon underwear. Now I'd like to start wearing satin women's underwear. How should I bring this up to my wife? It seems she's already somewhat supportive.
A: Quite a few men derive pleasure from wearing women's clothes, especially bras and panties. Before you broach your own preference with your wife, however, make certain you're prepared for her reaction. It could be extreme.
A new you within reach — Visit AARP Life Reimagined »
Some women find a guy's "taste for lace" edgy, possibly even exciting. A second group are upset by the practice but tolerate it to preserve the relationship. And a third group simply freak out: "OMG, he's gay," they conclude, but most of the time they are wrong: Getting turned on by a woman's garments actually has nothing to do with sexual orientation. Instead, the arousal is to the clothing.
For some men, it's simply exciting to put on a silky negligée every so often (and then, perhaps, switch roles in bed). Others grow more and more fixated — even dependent — on cross-dressing for arousal.
Your own situation may be a minor sexual quirk, but I still think you should see a sex therapist with your wife. Once she understands that your enjoyment of wearing panties constitutes neither homosexuality nor a rejection of her, she may find your "exotic eroticism" exciting — and possibly even encourage it. At the very least, she will gain a better understanding of your sexual triggers.
Q: I'm a healthy 70-year-old who's been married (and happy) for 40 years. I've always enjoyed sex, but never clitoral, just vaginal. A month or two ago, however, my libido skyrocketed, and clitoral pleasure is now intense. I started using a vibrator nearly every day, partly because I'm so surprised and curious about this "new me." My husband is fine with it, since at 73 his erections come less often, but what's going on?
A: Congratulations! You've been handed a sexual bonus, but why is not exactly clear. Several theories may explain this "new you."
1. Something may have caused your estrogen levels to spike (estrogen increases clitoral sensitivity).
2. Intercourse or masturbation (finger or vibrator) may have stimulated the anterior (or upper) wall of your vagina more than usual; that connects to the root of the clitoris and gets it all lathered up.
How would you put $10,000 to work? Sharpen your job skills and enter for a chance to win the big prize! Ends 1/31/16. No purchase necessary. See official rules »
3. It's possible you may have developed persistent arousal syndrome (PAS), or random sexual excitement, a condition little understood by scientists. Whereas PAS bothers some women, it (understandably) delights others.
Whatever the cause of your own new sexiness, I encourage you to enjoy it.
Photo: alby85/iStockphoto
Also of Interest:

See the AARP home page for deals, savings tips, trivia and more.