Benefits of Indoor Cycling
By Candy Sagon, November 4, 2021 03:10 PM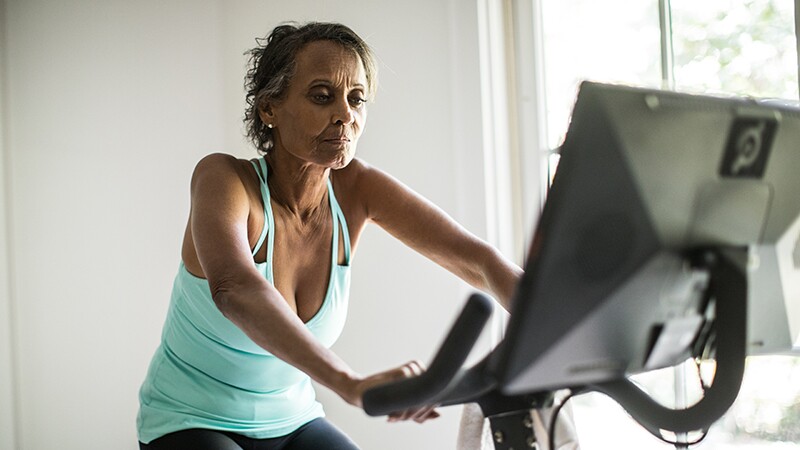 When President Biden and his wife moved into the White House, they brought a high-tech stationary bicycle that's part of their daily workout.

Like the Bidens, many Americans have embraced indoor cycling as way to stay fit while social distancing during the pandemic. Sales of stationary bikes more than doubled in 2020, according to market research firm NPD, with many at-home cyclists pedaling on internet-connected bikes so they can watch a spin class for motivation while exercising.


Is an exercise "a brain fertilizer"? Find out more in Staying Sharp.
Stationary bikes offer multiple benefits. For people with arthritis, back pain, mobility issues or other orthopedic problems, biking puts "no impact on knees or hip or back, so you can reach higher aerobic intensity without hurting your joints," says Kristin Matteson, an occupational therapist at Newport Hospital in Newport, Rhode Island. Multiple studies have shown a link between exercise and a reduced risk of depression and anxiety, and participating in an online spin class "can give you that socializing feel," Matteson says, which can have both cognitive and psychological benefits.

To protect yourself from cycle-related aches, make sure your stationary bike is adjusted to fit your body. including the seat height and position, the height of the handlebars, and the position of the foot on the pedal. An improperly adjusted bike can strain the back, knees and hip. And before starting any new exercise route, talk to your doctor or healthcare provider, Matteson suggests.


Learn more on AARP® Staying Sharp®
This content is provided for informational purposes only and is not intended to provide any expert, professional or specialty advice or recommendations. Readers are urged to consult with their medical providers for all questions.