Could Getting a Vaccine Lower Your Alzheimer's Risk?
By Candy Sagon, September 11, 2020 04:07 PM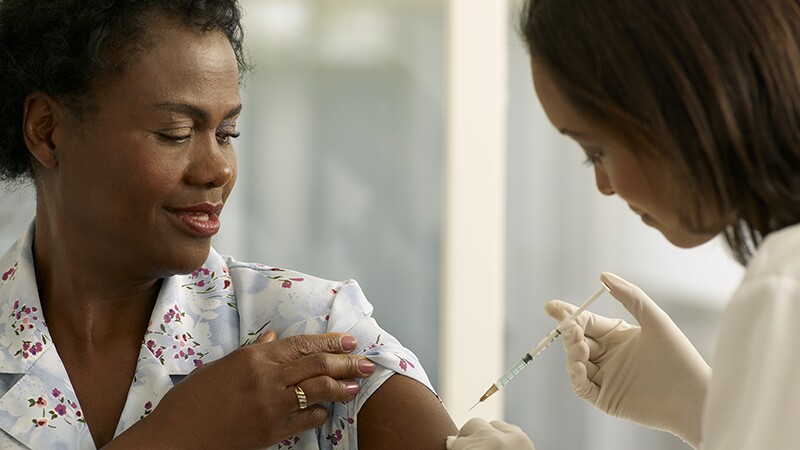 Two studies find that getting a flu shot and the pneumonia vaccine may also lower people's risk of Alzheimer's disease.

In one study, people who were vaccinated against pneumonia between the ages of 65 and 75 reduced their risk of Alzheimer's by 25 to 30 percent; the percentage was as much as 40 percent for those who didn't carry the gene that puts people at higher risk for Alzheimer's, reported Svetlana Ukraintseva, an associate research professor at Duke University's Social Science Research Institute, and colleagues.

In another study, researchers at the University of Texas Health Science Center in Houston found that getting a regular flu shot was linked to a 17 percent reduction in Alzheimer's risk. Those who got their flu shot more regularly saw their risk drop an additional 13 percent.


Check out these Foods That Help Strengthen the Immune System.
The findings add support to previous research that suggests that vaccinations may be a protective factor against cognitive decline.

An overview of each of the two studies was presented online at this year's virtual Alzheimer's Association International Conference, but neither study has been published yet in a peer-reviewed journal.

Although both studies found a relationship between people who got these vaccines and a lower risk of Alzheimer's, they did not prove that the vaccines caused the lower risk.

It may turn out, as Maria Carrillo, the Alzheimer's Association's chief science officer, said in a statement, that "if you're taking care of your health in this way — getting vaccinated — you're also taking care of yourself in other ways and these things add up to lower the risk of Alzheimer's and other dementias."

Or, the study researchers speculated, it may be that strengthening the immune system with these common vaccines does help protect the brain against the ravages of Alzheimer's disease.


Read the full article on the unpublished studies that found Common Vaccines to Lower Alzheimer's Risk.
This content is provided for informational purposes only and is not intended to provide any expert, professional or specialty advice or recommendations. Readers are urged to consult with their medical providers for all questions.