Eating While Quarantined: How Are You Doing?
By Candy Sagon, May 12, 2020 05:22 PM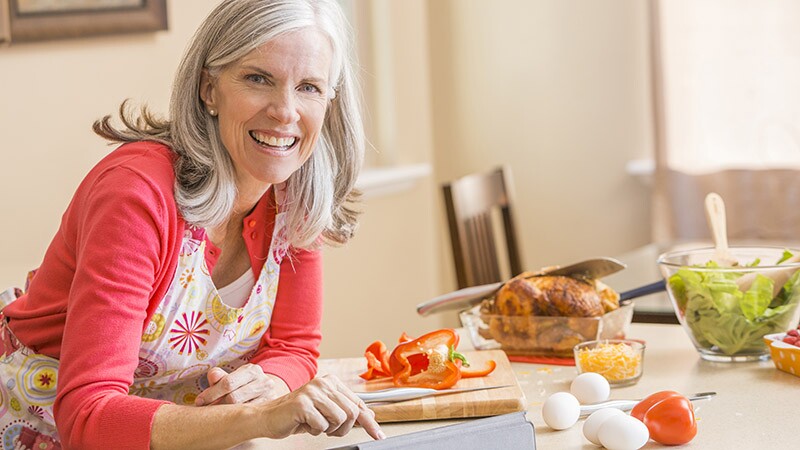 As Americans stay hunkered down at home in virus-avoidance mode, our eating habits are changing — for the better and the worse.

If you take a glass-half-full approach, the news is pretty good. People say they are eating more home-cooked meals and more fresh vegetables and fruits, according to a recent Harris poll, and many believe their eating has actually become healthier since the COVID-19 outbreak began in the U.S.

That's encouraging, because research finds that more home-cooking results in improved weight and health in adults, says a recent report by the Global Council on Brain Health. The nutrients in foods like whole grains, nuts and seeds, and fresh produce are also linked to helping improve brain function and mood.

More Americans are also trying new recipes and improving their cooking and baking skills.

Yes, we're baking lots of cookies and banana bread — baking powder and sugar sales are way up, but nothing like the skyrocketing demand for flour and yeast, thanks to all the eager, new home bread bakers across the country.

On the other hand, the stress of the virus has upped our vices as well. The latest survey by Nielsen shows alcohol sales are soaring. Americans are also exercising less and all those comfy, elastic-waistband pants may be disguising our weight gain from eating a lot more snack food and drinking more soda.


To find out ways to eat well and help nourish your brain with delicious foods at home, go to Brain-Healthy Home Cooking.
But dietitian Katherine Tallmadge, who has a private nutrition counseling practice in Washington, D.C., says she's not too worried.

She counsels (via phone and video calls) a wide range of people, from college students to retirees, and for the most part, they're telling her that being forced to stay home has had a positive effect on their health and eating habits.

"Many of my clients tell me they are losing weight because they're not going out to eat as much," she said in an interview. Others tell her they're making an effort to order healthy groceries.

This is not to say that Tallmadge doesn't hear from those giving in to bad habits.

Her strategy for them includes bringing more structure to their day and being blunt about the potential consequences of letting healthy habits slide. "I tell them that not exercising and eating poorly means their immune system won't be up to par for fighting off this virus."

Read the full article on Eating While Quarantined and:

Brain-Healthy Foods that Boost the Immune System

Staying Sharp recipes