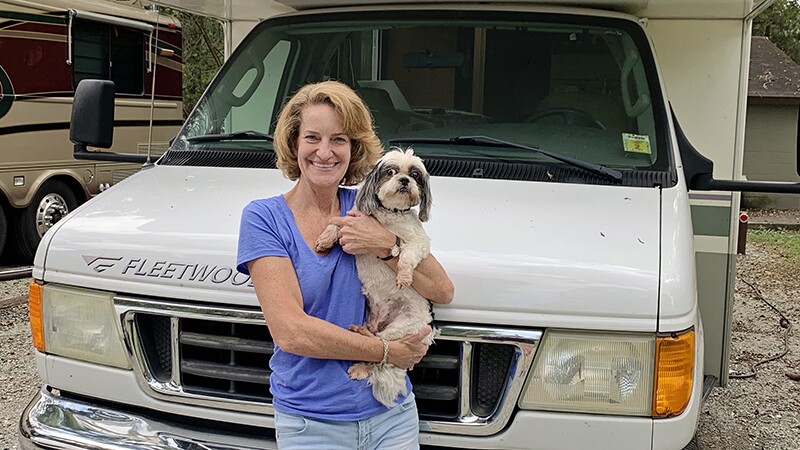 With no job in sight, Michelle Fishburne loaded up her RV and traveled the country with her dog, Buddy, by her side. Concerned by news reports of a divided country, Michelle set out to find common ground.

Life on the road was familiar. When her kids were younger, she took them on a 10-month road trip in her 29-foot Jamboree motor home. "I'm a third generation RVer," she says. "My parents and grandparents spent a lot of time in their RVs and shared numerous memories of the people they met and the discoveries they made."

From fall 2020 through March 2021, she traveled 12,000 miles touring the country, meeting and interviewing people for her website and soon-to-be released book based on her Who We Are Now project "The pandemic shined a light on us," she says. "It made us talk about what matters in life, and that focus is on family, friends and jobs."


Check out this story from Staying Sharp on how Alice Duncan is using yoga to help others relieve stress
Michelle interviewed 300 people — from cattle ranchers in Alpine, Texas, to a monologue writer working for Jimmy Fallon in Los Angeles to restaurant owners in New York City and health care workers in the heartlands. In Arkansas, she met a veteran who ran throughout the state carrying the American flag. "He wanted to lift people's spirits," she says.

"The pandemic taught us to slow down, to think about others, even others who we see as different from us. We all experienced the lockdown, the fear, and the hope. Somehow, we lifted our chins and we're able to connect to one another because we have a lot in common."

To find out more about Michelle life on the road, read 300 Stories Across America.

This content is provided for informational purposes only and is not intended to provide any expert, professional or specialty advice or recommendations. Readers are urged to consult with their medical providers for all questions.