10 Tips for Caregivers From Caregivers
By Elaine Ryan , August 25, 2014 01:00 PM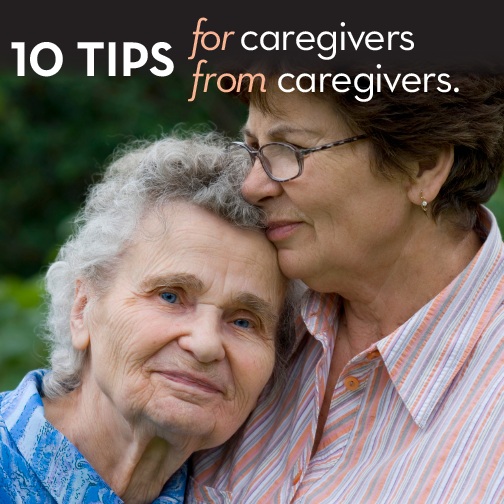 As I cared for my parents, helping them to live independently at home as they aged, I learned to listen to the learnings of other family caregivers. Recently, I shared 5 Tips for Caregivers and asked others for their views on our @ AARPAdvocates Facebook page. The comments from fellow caregivers came flooding in. While I wish I could share them all, here are 10 tips from caregivers to caregivers:

1. Be patient.
Nan: "Patience followed by more patience." Rae: "Patience! Lots and lots of patience."

2. Get organized.
Joan: "Make a MEDICAL BINDER in event of an emergency. Include family phone numbers, name, address, Social Security number, all medications and time of day taken. Include any allergies or note that there are none. List any previous medical issues, such as stroke, etc., and date of such. Include the health insurance and Medicare or Medicaid cards and other identifying information. I had to take my mom to the hospital a few times. Had the binder with me because in an emergency you forget things."

3. Make time for yourself.
Peggy: "Don't forget you in the process." Brianna: "If you get burned out and can't even meet your own needs, you won't be of any use to yourself or others."

4. Try to stay positive.
Irene: "Stay positive!" I know sometimes this one can be hard, but a positive outlook makes the day-to-day a little easier.

5. Join a support group.
Cathy: "The knowledge that you are not the only one going through this is valuable, and people learn from each other." Karen: "You aren't doing either of you any favors by struggling alone."

6. Listen.
Michael: "#1 Be a good listener." Connie: "Listen to their stories. They are amazing."

7. Trust your instincts.
Sharon: "If something doesn't feel right ... check it out." Trust your instincts and if something feels off, don't be afraid to ask questions.

8. Keep the humor.
Linda: "Humor goes a long way." I know firsthand: Laughter does wonders to reduce stress and lighten the mood!

9. Show your love.
Peggy: "Don't forget to hug them and tell them you love them." It's easy to get caught up with all the things that need to be done, but make sure to remember why you took on this labor of love in the first place.

10. Most important - care with dignity and respect.

Susan: "If you are taking care of someone elderly, don't treat them like they are 'overgrown' children. They should be treated with dignity and respect."
As millions of Americans selflessly devote themselves to caring for aging parents, spouses and other loved ones, all the tips we can gather are crucial. But we still need some support. AARP is fighting in states across the country to help family caregivers and the loved ones who count on them to remain at home.
Here are some of the ways:

Fellow family caregivers, remember, you're not alone.

Follow me on Twitter @RoamTheDomes for more news on caregiving and other advocacy across the country.