A Deep Connection: the Internet, Family Caregivers and Recipients
By Sally Abrahms , April 24, 2013 09:34 PM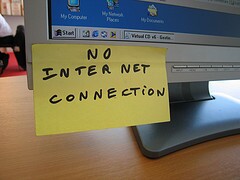 High-speed Internet can be key to living independently (also known as " aging in place"). You can go online or get smartphone apps that help you monitor chronic diseases, work from home to care for a loved one or prevent or delay functional decline with game systems that help you stay physically active. And, don't forget the ability to be socially connected through email, online forums and message boards.
And yet, a recent report issued by the AARP Public Policy Institute shows that many older adults lack access to high-speed Internet and if they can get it, they may not be able to afford it.
AARP did a follow-up of the Federal Communications Commission's (FCC) 2010 National Broadband Plan. That plan underscored the need to have greater high-speed Internet opportunities for older adults. Speed matters, the AARP report points out, and can make the difference between what you can, and can't do, with the Internet.
Slower Internet connections may confine you to web browsing or email. But to video conference, for instance, or to run multiple applications concurrently, you need high-speed connectivity .
Take a look at these AARP findings:

In 2012, 39 percent of those 65+ had high-speed Internet connection at home versus 77 percent of ages 30-49
Just 18 percent of African-Americans age 60+ had high-speed Internet versus 64 percent of those ages 30-44 and 48 percent ages 45-59
Only 20 percent of Hispanics age 60+ used the Internet compared to 38 percent of ages 45-49 and 49 percent of ages 30-44
Whites had the most access: 39 percent of those age 60+ had high-speed Internet versus 65 percent of ages 45-59 and 81 percent of ages 30-44
If you're looking after someone with a chronic condition, and multiple health issues, it can be complicated and stressful. Usually health care professionals and hired help, family or unpaid caregivers must work as a team.
With an Internet connection, you can access applications and services. High-definition video conferencing, for instance, lets you "talk" to health care professionals and can be used for family meetings when there are long-distance caregivers. GPS devices and computer programs can keep track of parents or spouses with Alzheimer's who may wander.
"Smart home" applications, as they are called, can help older adults age in place. Many let residents (and caregivers, if necessary) control home security and lighting from a distance.
The National Alzheimer Center, a division of the Hebrew Home at Riverdale in New York, just launched Balance, an app that helps:

keep medication organized (and lets other relatives keep current, too)
provides an RSS feed for news about Alzheimer's
offers caregiving tips
and has a section for notes for the doctor and patient appointments.
Another good-to-know caregiver app: Connectmyfolks.com lets caregivers exchange email, texts, photos and videos with loved ones. While the caregiver can use any computer, tablet, laptop or smartphone, the care recipient only needs an iPad. Computer-phobes, there are just three buttons on the iPad! For other products, check out the Aging in Place Technology Watch or a blog post I wrote last year, 9 Need-to-Know Technologies for Caregivers.
eC areDiary.com is a free website that lets caregivers, and recipients if they want, store medical information, track medications, create an appointment calendar and share this information with other family members. It is developing a mobile app, but until then, there are Q-and-As with experts, webinars and an Internet radio show about caregiving.
Of course there are many other helpful apps, programs and websites. Which do you like and why? Please share!
Photo by Noii courtesy of Creative Commons
Follow Sally Abrahms at www.sallyabrahms.com and on twitter.
Also of Interest

Join AARP: Savings, resources and news for your well-being
See the AARP home page for deals, savings tips, trivia and more