Meeting Alzheimer's at the MoMA
By Sally Abrahms , February 02, 2012 05:20 PM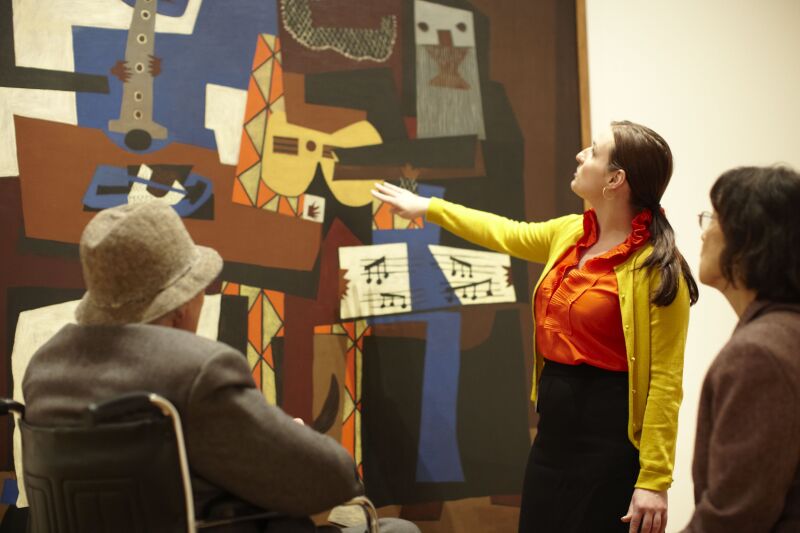 Picture this: It is Tuesday, the day New York's Museum of Modern Art (MoMA) is closed to the public, and yet I am in their galleries surrounded by Van Goghs, Dalis, and Cezannes. It is one of those "life moments" now etched in my brain.
There are no crowds or distractions, just seven caretakers, their spouses and parents with dementia, and a Museum educator, all animatedly discussing Picasso's very abstract " The Seated Bather."
The educator: "Why did Picasso choose to paint this way? There is no torso or brain. What do you see?"
"A hollow woman," says one man with Alzheimer's. "An empty-headed woman," says another. "What a sexy broad!" he continues.
There may be laughs, but this is a serious approach to improving the lives of caregivers and their impaired spouses and parents. The MoMA Alzheimer's Project's Meet Me at the MoMA, a free monthly 1.5 hour program that attracts around 90 participants (divided into six groups) at a time, is one of many such museum programs around the country and abroad.
ARTZ (Artists For Alzheimer's) created a program for the Louvre and the National Gallery of Australia; it also runs free weekly museum tours among six museums in Massachusetts.
No doubt, it's a challenge for an educator. People are at different stages of Alzheimer's (although the programs are geared to those with mild cognitive impairment). Says Laurel Humble of MoMA: "You have to be on your toes. Some answers don't make sense. There's a fair amount of work to keep the conversation cohesive. I'm constantly reintroducing an idea."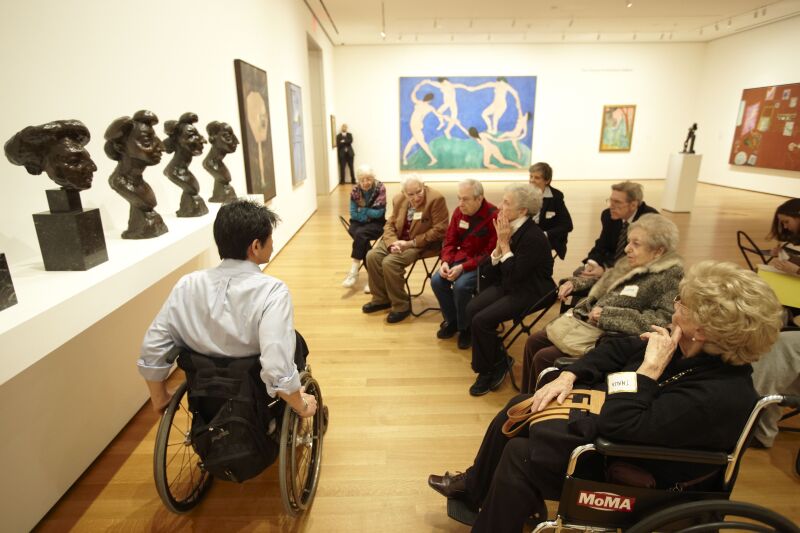 Not that it matters. As the caretaker, having that meaningful experience is a rarity. These initiatives are a break from the daily hum-drum caregiver/recipient interaction.
A New York University study of the MoMA program found other benefits: a boost in self-worth and positive mood that can last several days after a program for the one with Alzheimer's. And caregivers? Researchers discovered they feel less isolated by socializing with others also dealing with Alzheimer's. Plus, they're doing something for themselves--remember, they're not the best at that taking-care-of-themselves thing.
"It's my lifeline, my life support," says one MoMA regular . "Without it, I don't think I could do it. The program is intellectually stimulating for me and my husband. It's not just looking at pretty pictures. Both of us get to use our mind."
I met Tania Becker, who has just launched the Arts 4 Alzheimer's program at the Columbus Museum in Columbus, GA. Here's her take: "They're so engaged! Sometimes when I walk out, I can't tell which is the person with Alzheimer's and which is the caregiver!"
For programs in your area: