5 Things I've Learned as a Caregiver
By Amy Goyer , July 29, 2013 04:24 PM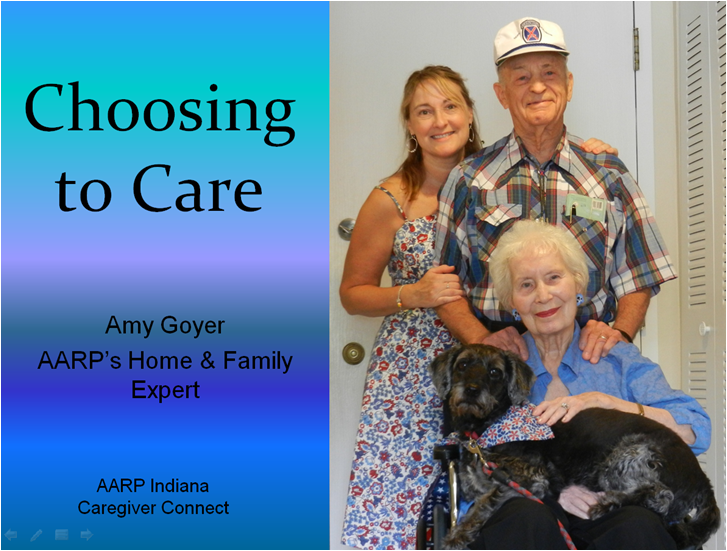 I recently had the great pleasure of returning to Indiana, the state of my birth, to speak at three local AARP Indiana Caregiver Connect forums in Ft. Wayne, Indianapolis and Merrillville. It was a bittersweet experience. My parents were with me on my last visit to Indiana, where they both were born and raised. But now travel would be very difficult for them, so most likely they won't return to Indiana until they are gone from this earth. As a Hoosier, it was so good to be "back home again" in Indiana ... but hard to be there without my parents.

At the same time, speaking at the forums was a marvelous experience. As I began my keynote speech, sharing my caregiving story and lessons learned, at each forum I saw participants' faces reflecting their state of mind. Some were crying ... seemingly at the end of their rope and desperate for help. By the end of the day I saw relief, as their faces indicated a release of tension and a sense of hope. The free seated massages were just one reason people felt supported at the events!
I spoke with so many caregivers; each said they had no idea of the community resources available to them. (Kudos to AARP Indiana for convening key local organizations such as the Veterans Administration, Social Security, the Area Agency on Aging and others who answered questions and shared resources). They expressed their gratitude to me for sharing my personal story. One woman told me, "I thought I was the only one doing this - I'm so isolated." A man who cares for his wife who has a brain tumor told me, "I thought I had it hard, but if you can get through what you do with both of your parents, I can do this." Both allowed their tears to flow as we talked.
It is my mission to share my personal caregiving story to help support other caregivers. But I receive just as much support from them as I give. Together, we are stronger.
Check out the videos below, for a quick overview of what I shared in my keynote speech at the forums, including 5 of my top lessons learned:



More details about each of these in the videos below-- and don't miss the video above which was my parents' musical message to the Caregiver Connect participants: Their version of "Back Home Again in Indiana" (they were a huge hit!)
I'd love to hear what YOU'VE learned as a caregiver - post in the comments section below, tweet me or Facebook me!
Amy Goyer is AARP's Home & Family Expert; she splits her time between Washington, D.C. and Phoenix, Ariz. where she is caregiving for both of her parents who live with her. Her new book, AARP's Juggling Work and Caregiving, will be published this fall. Follow Amy on Twitter @amygoyer and on Facebook.
Also of Interest

Join AARP: Savings, resources and news for your well-being
See the AARP home page for deals, savings tips, trivia and more