Join the Holiday Blog Party for Caregivers
By Amy Goyer, December 06, 2015 09:00 AM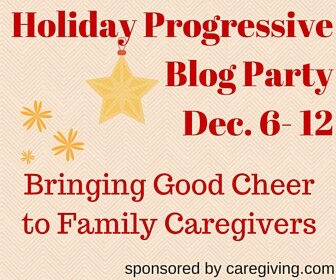 Now, in the thick of the holiday season, many of us who are family caregivers are facing even more stress than usual, with relatives' visits and extra items on our to-do lists. That makes this a perfect time for us to connect with our fellow caregivers for support and advice. While we can't all gather in-person, of course, Caregiving.com came up with something much easier: a virtual Holiday Progressive Blog Party, and I'm thrilled to participate. Visit the site to find links to a range of caregiving blogs and — if you blog, too — share information about your own.

I write this AARP Take Care blog about my experiences caring for my grandparents, parents and sister over the years, while offering useful tips and caregiving news. A very warm welcome if you're a new visitor (I hope you'll find my holiday survival tips especially helpful). I also have a new book, Juggling Life, Work and Caregiving, and will be on The Doctors TV show this week, on December 8, with some of my top tips for caregivers.

Please include your own caregiving blog suggestions in the comments section below, and while you're here check out AARP's online Caregiving Resource Center and community caregiving group — another great way to connect with other caregivers!

Happy holidays ... and remember to take care of yourself during this festive season, too.

Amy Goyer is AARP's family, caregiving and multigenerational issues expert; she spends most of her time in Phoenix, where she is caring for her dad, who lives with her. She is the author of AARP's Juggling Life, Work and Caregiving . Follow Amy on Twitter @amygoyer  and on Facebook .