From Rolodex to Evernote: Organizing The List of my Parents' Health Care Providers
By Amy Goyer , July 25, 2012 09:00 AM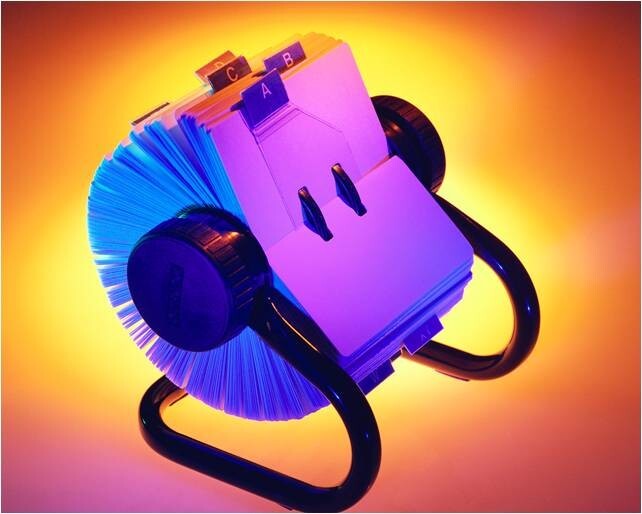 It was about 15 years old, and full of tattered business and index cards, neatly organized alphabetically - either by name or perhaps by service or type of physician or town or ... well, it wasn't consistent as far as I could tell. Finding the contact information for my parent's health care and other service providers in my Dad's card file was a journey into his mind and internal filing system. I'm sure it made sense to him, but it was a mystery to me!
Eventually, even Dad was having trouble locating contacts in his card file, so about five years ago I gifted him an upgraded rotary Rolodex business card file with protective plastic card sleeves. I transferred and organized the cards and slips of paper with phone numbers on them and explained how he could easily "flip through each card with the simple twist of a knob."
Perfect. He flipped over it. And that worked for awhile...
Fast forward a few years when I came out west to better support and dive deeper into caregiving for my parents, and I began using the Rolodex to make their health care appointments. I quickly discovered that not all of their doctors' information was current, and many health care providers were missing from their Rolodex. I began hunting through health files in Dad's well-worn filing cabinet, trying to piece together their medical history and all the doctors they have seen. Dad's memory was beginning to fade due to Alzheimer's disease, and Mom has aphasia, so it's difficult for her to communicate the names of doctors. I knew there were some ongoing regular appointments I should schedule, and whenever a health problem arose for either one of them I was sent on another treasure hunt for the right doctor. It was time-consuming and I went in a lot of frustrating circles.
That's when I went to the next level in organizing my parent's health care information. I created The List. It contains all their doctors and other health care providers. The List includes (in alphabetical order by name):

Name
Specialty
Address
Phone number
Website
Email address
Mileage to the office (I use this as a reference point when I do their taxes)
Directions to the office (in case I don't have my GPS)
Comments - other pertinent information
I love having all the information in one place instead of separate cards. I print a copy to keep with their medical notebooks (so that family or paid caregivers can easily access it.)
I also keep a copy in Dropbox on my computer as well as in Evernote. I share the Dropbox file with my sisters so they can access it from their own computers across the country. I can also easily access The List on my iPad and my iPhone in either Dropbox or Evernote, but I like Evernote's search function so if I forget a doctor's name I can find her by specialty or town. This also comes in handy when we have a run to the emergency room or if a doctor wants the name and contact info of another doctor, or perhaps the home health agency, physical therapist or other health care professional on The List.
The List is now an astounding four pages, and growing.
I wish I'd started this list when Dad was more able to help me navigate through all of their doctors. Actually, I wish I'd started a list for them many years ago - it would have helped me track their medical histories (another document I'm working on - more about that in another post!)
So my recommendation to you is this: create The List for your parents (and yourself!) as soon as possible, and keep it up-to-date every time a new health care professional enters the scene. It will save a lot of headaches later - believe me!