A Caregiver's Tips for Managing Medications
By Amy Goyer , October 10, 2012 08:55 AM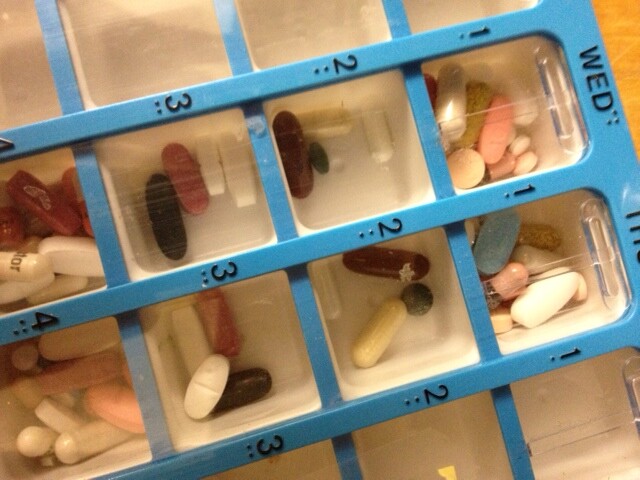 AARP and the United Hospital Fund recently released a new study, Home Alone: Family Caregivers Providing Complex Chronic Care, focusing on the types of tasks we family caregivers are performing, and the results are clear: caregiving isn't what it used to be. Almost half of us (46%) are now performing medical/nursing tasks such as wound care, medication management, operating medical equipment and more. These tasks were once relegated to hospital and nursing facility care, and go far beyond personal care and household chores. For more study specifics, see Sally Abrahms' post here.
Starting off with medication management, in my next few posts I'll be sharing my personal experiences with the caregiving tasks outlined in the Home Alone study . Our local pharmacists often joke that I should have a pharmacy degree with all that I've learned!
Key statistics:

Of caregivers who are performing medical/nursing tasks, 78% are managing multiple medications
31% of care recipients take 1-5 medications; 46% take 5 - 9; 18% take 10 or more
Are you ready for this? Between my parents, I manage a whopping 31 prescriptions and many supplements in addition. Despite my efforts to lower the number of meds (Mom does take five fewer than she did a year ago), Mom currently has 23 and Dad has eight, including pills, topical creams or powders, eye drops and nasal sprays. Some are temporary; others are ongoing. For two months this year, my Dad had a feeding tube so medications had to be crushed and infused - often clogging the tube. It was a nightmare; my heart goes out to caregivers who have this challenge on an ongoing basis.
I fill their prescriptions, load up their pill organizers, help them take pills or oversee our paid caregivers in doing so. I am constantly on the lookout for swallowing problems, adverse reactions or interactions, appropriate dosages and timing as well as signs of overmedication.
Here are three of my best tips on medication management:



Keep an up-to-date list of all medications, including over-the-counter and supplements. Include dosage, purpose, prescribing doctor, and notes (such as possible side effects, "as needed" instructions etc.) I use Evernote for this purpose.

Develop a relationship with your local pharmacist. I'm on a first-name basis with ours, and they are my biggest support in this area. They are open to any questions (whether they fill the prescription or not) and make suggestions about insurance, medication reactions and alternatives. They seem to know more about the medications than the doctors do. For example, I've asked them about liquid alternatives to pills.

Don't be afraid to ask questions or challenge the doctors about medications. You know your loved one better than they do. More on my experience with this in my next post!
I'd love to hear from you about your war stories in managing your loved ones' medications!