The Greatest Gifts of All
By Amy Goyer , December 23, 2015 11:18 AM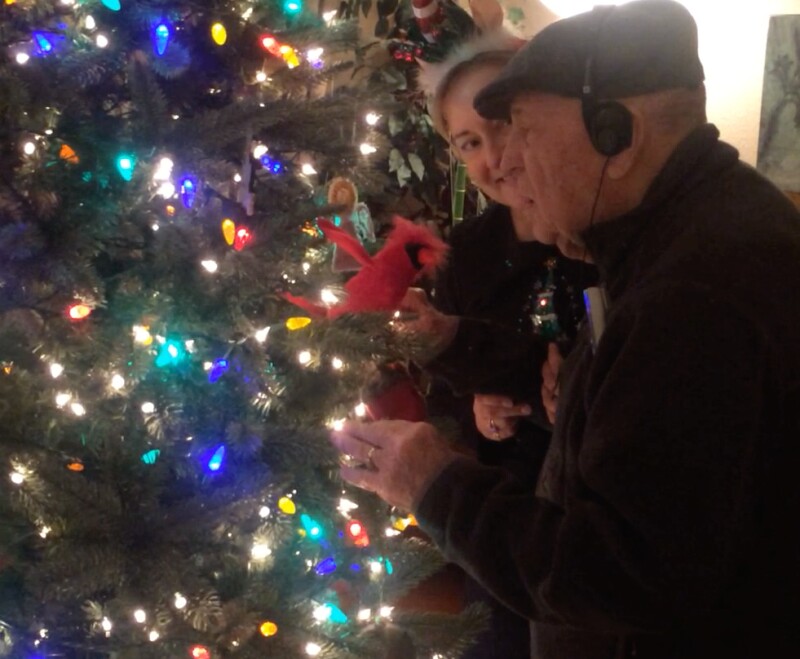 The way Alzheimer's disease has ravaged my dad's capabilities is especially hard to bear during holidays. I wish he could more fully participate in and enjoy our family traditions. So often it seems that he just doesn't understand, and the meaning is lost for him. Recently, though, he gave me my most unexpected and treasured Christmas gifts ... and taught me invaluable lessons at the same time.
Dad always used to lead us in Advent services during the weeks leading up to Christmas. He'd read the Bible verses, message and prayers, and we'd all sing Christmas carols. He can't do that anymore, so this year, my sister Linda joined us as I led the service. The theme that week was how difficult it is to be "waiting," especially when things are out of our control (in the Christian tradition, Advent is about waiting and preparing for the birth of Jesus).
Organize and share crucial info with family and caregivers — Download AARP's Caregiving App »
After the reading, I asked Daddy, "Do you get tired of waiting sometimes, too?" He looked kind of sad and said, "Yes." I asked him what he gets tired of waiting for. "Us," he replied. For a second I wondered what he meant. Then he added, " Patricia."
I was stunned, as he rarely brings up Mom now (she passed on two years ago; he used to ask daily where she was). I was so shocked that he put it together so well — he fully understood the meaning and was able to apply it to his situation. Dad and Mom were married 63 years, and he's waiting to be with her again, to be "us" again.
Linda and I looked at each other and teared up. My heart broke for him. But then he squeezed my hand and said, "But I like this one, too," and gave me a little smile. I told him that I know it's hard to wait but I'm awfully glad he's here with us for now.
The next day Linda and I put up the Christmas tree and got the lights on it. I took Daddy into the living room and put his chair about five feet away from the tree. We listened to Christmas music and sang along. I talked to him about the tree but I didn't really think he understood, as he can't see well (he has glaucoma, and Alzheimer's has affected his visual processing) and communication is getting more challenging for him.
I went across the room to get some decorations, and then I looked up and saw him standing and stepping toward the tree with his arms out. He very rarely tries to get up or walk by himself.
I ran over and asked where he was going and he said, "Well, to the Christmas tree, I guess!" I couldn't believe it! Not only did he understand, he said the words and proactively wanted to participate.
I helped him touch the tree and he looked up at the lights, and said, "I see it!" Then he said, "I want to put some things on there! But I don't want to break it!" He knew, and was able to communicate, that it needed ornaments and that they were fragile. So I gave him some unbreakable ornaments and helped him put them on the tree. If felt miraculous. My heart overflowed.
Then he said he wanted to sit down "right here." I moved his chair so his knees were touching the tree, and he was content.
The piano is right next to the Christmas tree, so I said I'd play Christmas songs for him. I handed him our sleigh bells and said, "Daddy, these are the real sleigh bells you found in a barn one time when you were hunting in Canada!" He took them and said with genuine recognition, "That's right, I did! I remember that!" (I cannot remember the last time he said he remembered anything.) He played them and we sang a rousing chorus of "Jingle Bells."
Daddy couldn't go Christmas shopping this year. He won't get us cards or wrap presents for us. But I think he has given me the greatest and most simple gifts of all: moments of love and human connection.
Get discounts on prescriptions, health exams, eye care and more — AARP Member Advantages »
He also reminded me to never, ever assume that someone with dementia (or any other illness) doesn't still have a lot going on inside. We must always remember that deeply familiar things, such as holiday rituals and music, may bring up memories and very rich connections. We must never stop including loved ones; always reach out. Never give up. Even if we can't see or hear it, something may be getting through.
And we must never, ever get so caught up in sadness or self-pity that we miss the truly important moments of great joy and meaning.
Thanks, Daddy, and happy holidays to you all. May you give and receive the greatest gifts with your loved ones, too.
Amy Goyer is AARP's family, caregiving and multigenerational issues expert; she spends most of her time in Phoenix, where she is caring for her dad, who lives with her. She is the author of AARP's Juggling Life, Work and Caregiving . Follow Amy on Twitter @amygoyer  and on Facebook .
Also of Interest

See the AARP home page for deals, savings tips, trivia and more.