Driven to Desperation: Caring for Someone With Alzheimer's
By Amy Goyer , February 18, 2016 01:33 PM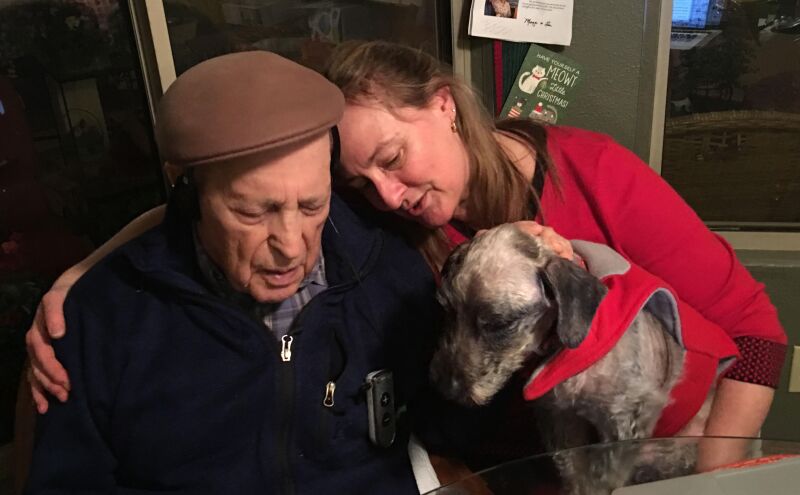 I recently read a disturbing news report about a 69-year-old man in Florida who apparently killed his 89-year-old mother and then committed suicide. Police reported that he left a note stating that his mother, who lived with him, had advanced Alzheimer's disease and that he was having extreme difficulty caring for her. The story absolutely breaks my heart. While I have certainly never felt that low, as a caregiver for someone with Alzheimer's, I do have some insight into the feelings of overwhelming hopelessness this man must have endured to be driven to such a horrific action.
All types of family caregiving can require an incredible amount of physical and emotional energy, not to mention financial and personal sacrifice. But I have been a caregiver in several situations, and I can attest that caring for my grandmother, who had Alzheimer's, and now for my dad (who also suffers from the disease) is different. The level of emotional and mental drain and physical exhaustion is difficult to put into words. Alzheimer's caregiving is extreme — it's caregiving on steroids.
Organize and share crucial info with family and caregivers — Download AARP's Caregiving App »
Alzheimer's is the perfect storm of caregiving, and, like all natural disasters, it requires an all-hands-on-deck response. But many caregivers believe there are no other hands to call on deck and there certainly isn't a disaster plan to fall back on.
My dad is moving into the advanced stages of the disease, and yet he has needed someone to be with him constantly (except when he's sleeping) for the past four years. I know that he may live with the disease for many more years and that as his cognitive abilities change, his physical needs will increase.
Transitions are increasingly confusing for him — getting out of bed, getting dressed or undressed, moving from sitting to standing — he just doesn't understand what or why. He has become incontinent at night. Helping him eat usually requires one-on-one attention for an hour or more. Fear makes him angry when he doesn't know who we are or doesn't understand what we want him to do. My hero, a decorated WWII veteran, feels scared — often.
It is increasingly harder to find things that bring Dad joy as his world gets smaller. It's also tough emotional work for me to overcome my own sadness and grief along this journey.
This caregiving role requires of me a constant, 100 percent, full-throttle effort. It's a marathon whose finish line is unknown and, in some ways, unwanted.
But I have help.
Dad did have some disaster plans in place: He has long-term care insurance and good pensions. As a veteran, he receives the veterans aid and attendance benefit. He is even eligible for some free respite services from the Department of Veterans Affairs. Thankfully, he has enough money for me to hire paid caregivers to help part time, but his entire income is going toward those services, so I'm personally facing serious financial strain.
I also have incredibly supportive friends and family and am connected to a national network of other caregivers, Alzheimer's information and support. I know how to avoid being isolated. I have worked in the field of aging for more than 30 years, so I know the systems and I know how to advocate. I experience moments of total joy and fulfillment while caring for my dad. And yet this is still off-the-charts difficult for me.
We don't know the extenuating circumstances behind the apparent murder-suicide, but it's not the first incident of caregiver desperation, and, sadly, I doubt it will be the last. I can guess that that man felt unable to manage, guilty for not being able to care for his mother the way he thought he should, overwhelmed, unqualified, unprepared, lost, grief-stricken and depressed. Alone.
And the saddest thing is that there was probably some help available for him and his mother that he just didn't know about or didn't have the energy or skills to pursue. Apparently, he saw no other course.
Families have and will continue to bear the majority of responsibility for hands-on care for loved ones, but we simply can't do it all by ourselves. It's not humanly possible to provide the 24/7 kind of care someone with advancing Alzheimer's disease needs without some dire short- or long-term consequences for the caregiver.
Get discounts on prescriptions, health exams, eye care and more — AARP Member Advantages »
As a society, we need to do a better job of advocating for caregivers and connecting them with resources for support and affordable, quality services for their loved ones. This kind of tragedy should just never, ever happen.
Photo by Linda Goyer Lane
Amy Goyer is AARP's family, caregiving and multigenerational issues expert; she spends most of her time in Phoenix, where she is caring for her dad, who lives with her. She is the author of AARP's Juggling Life, Work and Caregiving . Follow Amy on Twitter @amygoyer  and on Facebook, and for ongoing caregiving support from Amy and AARP text AMY to 97779.
Also of Interest

See the AARP home page for deals, savings tips, trivia and more.