Have You Had "The Talk"? New York Times Tackles a Thorny Issue
By Amy Goyer , May 25, 2013 11:44 PM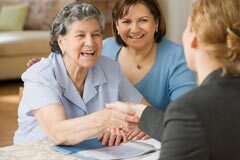 I was recently interviewed for a New York Times article, The Talk You Didn't Have With Your Parents Could Cost You, about handling parents' financial and legal affairs after they die. The article is an important one - both for adult children who may be dealing with these issues, and for parents who may be reluctant to share personal and financial information with their kids.
My message is pretty simple: To anyone who may have to deal with estate matters after the death of a parent (or other family member or friend), you should encourage your loved ones to get their affairs in order - no matter what their age. In addition, make sure they show you how to find everything you'll need in order to deal with their estate. If they don't want to tell you the details of their finances, that's their prerogative. Just make sure you know where to go and what to do when the time comes.
Join the discussion: The No Longer Taboo topic of Death... 
To the parents (or other relatives, partners or friends), I implore you to have everything organized. I'm not just referring to a will or trust. The New York Times story described a family who had problems dealing with their mother's mortgage, car insurance and even the cable box. Communicating about all the minutia ahead of time is one way to help your family be prepared to deal with these thorny matters while in the throes of grieving. Having both the big picture and the intricate details in place and easily accessible for the exectuors of your estate will ensure things are handled the way you want. If you talk about your wishes in advance of your death, even better; it's actually a way to have more control - not less. It's also the best way to prevent family feuds after you're gone.
Finances and death are not topics that anyone really enjoys discussing. And dealing with both of them at the same time is especially tough. The smartest thing you can is prepare. Talk with an estate planning professional, and here are some additional resources you might find helpful as you navigate this process:

What's your take on estate planning? Are you organized and ready? Let me know in the comments section, below.
Amy Goyer is AARP's Home & Family Expert; she splits her time between Washington, D.C. and Phoenix, Ariz. where she is caregiving for both of her parents who live with her. Her new book, AARP's Juggling Work and Caregiving, is slated for fall 2013 publication. Follow Amy on Twitter @amygoyer and on Facebook .
Also of Interest

Join AARP: Savings, resources and news for your well-being
See the AARP home page for deals, savings tips, trivia and more
Photo: Jose Luis Pelaez/Alamy