Growth in Grandfamilies Leads to Food Insecurity
By Amy Goyer , June 01, 2012 08:20 AM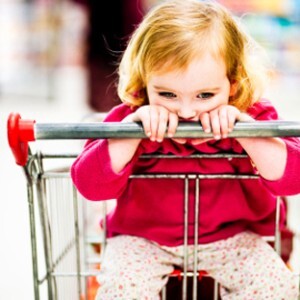 Editor's note: This post originally appeared as an article in the May/June 2012 issue of Aging Today but has been edited for length.
According to the U.S. Census, more than 2.5 million grandparents in America are householders responsible for grandchildren who live with them, and almost 20 percent are living in poverty. More than a third of these households have no parents present.
A recent AARP survey found about one in 10 grandparents have grandchildren living in the home, and 43 percent of those indicate they are the primary caregiver for at least one grandchild. Thirteen percent of Hispanic grandparents live with grandchildren, and nearly two in 10 African-American grandparents live with grandchildren.
There has been an increase in these "grandfamilies" over the past decade-the 2000 U.S. Census found 4.5 million children living in grandparent-headed households; by 2010 that number rose to almost 5 million children. These grandfamilies are here to stay-many grandparents are primary caregivers for significant periods of time. In the AARP survey, half of the grandparents who are primary caregivers said they have been in that role for five years or more.
The High Cost of Caring for Kids
Many grandparents lose or quit jobs to care for grandchildren, and they incur increased basic expenses such as housing, healthcare, clothing, school expenses, childcare and food. Raising children is costly. The U.S. Department of Agriculture (USDA) reports the cost of raising a child went up 40 percent from 2001 to 2011. And while costs vary dependent upon geography, income and the number of children, they are significant and add up over time. Many grandparents end up spending down retirement savings, and for those on a limited income, raising grandchildren can push these elders into poverty. And too many of them are going hungry.

According to Feeding America, more than one in six children live in a household with food insecurity, which can lead to adverse health, growth and developmental outcomes.

We must work together to connect these special families to available financial and nutrition assistance programs, many of which are highly underused because of stigma, fear and lack of knowledge. These grandparents are providing a great service to their families and their country, trying to offer a stable home and security to their grandchildren-let's work together to enable them to do so.
SNAP and Other Public Benefits
SNAP, the Supplemental Nutrition Assistance Program, is the largest federal program addressing food insecurity, but it's widely underused. While more than 7 million older Americans are eligible for SNAP, less than one-third receive benefits. Two-thirds of SNAP-eligible people in other age groups receive benefits.
Research indicates the following factors are the most common reasons people do not sign up for SNAP:

Misunderstanding. Many fear they might take away benefits from someone who may need them more than they do.
Stigma. Many feel too proud or embarrassed to receive benefits.
Lack of awareness. Many don't know SNAP is available or that they might qualify for it.
Fear. Many fear that the SNAP application process is too burdensome and bureaucratic, and any benefits they might receive will not be worth the effort.
Outreach, education and awareness-raising efforts such as AARP's Drive to End Hunger, Feeding America's SNAP Outreach Program, USDA outreach efforts, volunteer programs (such as Americorps and state-local nutrition outreach programs) and coalitions are working to dispel myths about SNAP and increase participation.
Resources:

How to Get Food Help This resource addresses all federal nutrition programs for all ages, and is color-coded by age group. Spanish-language version
National Hunger Hotline 866-3hungry (866-348-6479; in English); 877-8hambre (877-842-6273; in Spanish).