What Would You Sacrifice to Pay for Grandkids' College?
By Amy Goyer , July 05, 2012 12:54 PM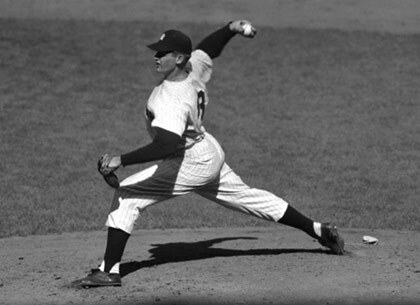 I was so moved when I read a recent  article about baseball great Don Larsen, who is auctioning off the uniform he wore when he made history in 1956, pitching the only perfect game in a World Series.
That uniform must be like the ruby slippers were to Judy Garland or the lunar space suit to Neil Armstrong or the pen John Adams used to sign the Declaration of Independence. OK maybe we won't go that far, but seriously - this is something that must be so very dear to this man. This event transformed his life.
But being a grandfather must be even more important to him. He's willing to sacrifice that uniform to help finance his grandkids' future. That's right - he's letting go of his most prized possession to pay for his grandchildren's education.
You may not have such an item in your possession, but I bet you love your grandkids just as much.
The good news is there are other ways you can help support your grandchildren's education. And with the price of a college education constantly growing they need the help. Tthe annual cost of my alma mater has more than quadrupled since I graduated almost 30 years ago. Ouch!)
Here are a few things to consider:

Think ahead - consider contributing to a 529 plan. These college savings or pre-paid plans are operated by states or specific educational institutions, and generally won't affect your grandchild's financial aid. You can invest in any state or institution plan - it doesn't have to be the state or college your grandchild will attend some day. Do your homework and consult with a financial advisor to make sure you find the right plan for you - and your grandchild.
Beware of giving cash gifts. Think again before giving cash to a grandchild, sending money directly to the institution of higher education, buying savings bonds in your grandchild's name or even setting up a trust fund. Before you give, find out if these resources will limit your grandchild's financial aid eligibility. If so, you don't want to go those routes unless he won't be eligible anyway. Financial aid can be a big help.
Help your grandkids navigate the path to post-high school education and training. Furthering education and training after high school graduation isn't just about the money. It's also about preparation, family values and expectations, planning...and grades. Check out AARP's pilot program, Guiding Your Grands, which is currently focused in the Chicago area, but has some great information for all grandparents about how to help grandkids get ready and launch the next step to achieving their dreams.
I sure hope that Don Larsen has planned for his own needs for the rest of his life ... giving up that uniform is sacrificing a chunk of his own financial security. Remember - the greatest gift you can give your kids and grandkids is good financial planning for your future needs. Being financially dependent upon them in the future isn't any gift at all.
Photo Credit: Kidwiler Collection/Diamond Images/Getty Images