3 Things to Do Today to Prevent Falls
By Amy Goyer , August 06, 2013 11:00 AM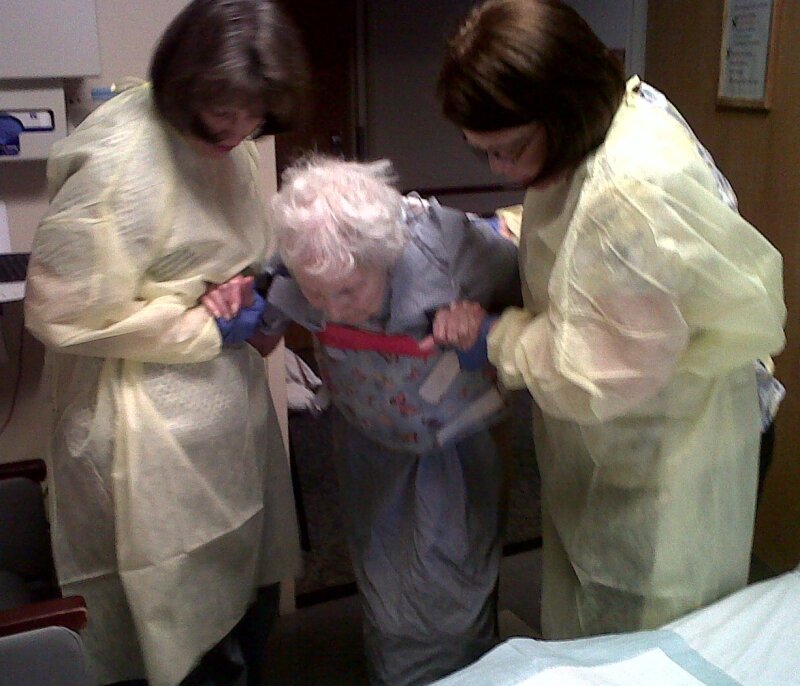 The phone calls from my Dad have come all too often. "Amy, your mother has had a fall," he'd say. I'd slide out of bed into my shoes and race to my parents' apartment, sometimes meeting the emergency squad when I arrived. We'd spend hours in the emergency room, grateful every time she came home without any broken bones or a concussion.
Each fall set her back, increasing pain and limiting her mobility. That resulted in less strength, poor circulation and myriad other conditions. When my mom fell and fractured her spine a few years ago, she had to undergo risky surgery. She spent 40 days in the hospital where she got C. Diff (a nasty bacteria causing diarrhea), which led to a heart attack, congestive heart failure, pneumonia and much more. It was four very difficult months before she came home again. (See my short movie of Mom learning to walk again.)
Related: AARP Caregiving Resource Center
Each year, one in three adults age 65 or older falls. It's the leading cause of injury death and a major concern for all caregivers. Over the years I've learned firsthand the importance of fall prevention.
The key is to carefully analyze your loved ones' situations so you can understand the causes of their falls. Preventing repeated falls may mean making changes in the home or in the support they receive. I tried to prevent the fall that fractured my Mom's spine, but the system I had in place failed - a monitor I had purchased didn't work. I learned to have several preventive measures in place as backup.
Check out my Taking Care video below with some fall prevention tips, and here, excerpted from my upcoming book, AARP's Juggling Work and Caregiving:



Exercise: Establish an exercise regimen to maintain balance, a steady gait and strength, especially leg strength.

Eliminate trip hazards: Remove clutter and debris such as newspapers, extension cords, dog toys and leaves. Remove area rugs unless they're secured firmly with tacks, double-sided tape or a nonslip gripper pad; even a thin rug can slide, catch a toe and cause a fall. Doormats, too, should be secure. Outside, trim overgrown shrubbery to allow clear pathways.

Monitors and alerts: If you know your loved ones are at high risk for falling, make sure someone is always with them or create a system they can use to call for help. I use an inexpensive wireless doorbell that Mom rings when she is ready to get out of bed, as well as an audio and video monitor (webcams I can check on all my devices from anywhere) and two alarms that sound an alert if she gets up: One clips to her sleeve; the other is a pad under the bed sheets or chair cushion. Another option is installing sensors activated by movement that set off alarms or send notifications to your smartphone, tablet or computer.
Amy Goyer is AARP's Home & Family Expert; she splits her time between Washington, D.C. and Phoenix, Ariz. where she is caregiving for both of her parents who live with her. Her new book, AARP's Juggling Work and Caregiving, will be published this fall. Follow Amy on Twitter @amygoyer and on Facebook.
Also of Interest

Join AARP: Savings, resources and news for your well-being
See the AARP home page for deals, savings tips, trivia and more