Make Priceless Family Memories on Thanksgiving, StoryCorps-Style
By Amy Goyer , November 19, 2015 10:09 AM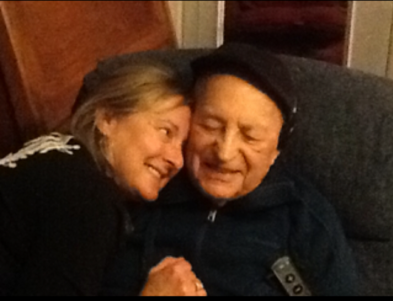 Thanksgiving is approaching and families across the nation will be gathering to eat, maybe watch TV and, I hope, enjoy time together. But one of the most common questions I get this time of year is, "How can I get the generations in our family to interact more?" This year I have a great answer: Participate in StoryCorps' Great Thanksgiving Listen using its new free app.
You may have heard StoryCorps on NPR's Morning Edition on Fridays—a series of moving interviews, often between family members, about very personal stories. For this Thanksgiving project, StoryCorps is opening up the storytelling to everyone, encouraging thousands of younger family members to use the app to record interviews with their elders. It's a great conversation starter and groundbreaking way to archive the wisdom of the generations.
Organize and privately share crucial info with family and caregivers — Download AARP's Caregiving App »
I spoke recently with StoryCorps' founder, Dave Isay, about the new app and the Great Thanksgiving Listen. "It's a project about generosity—and love and listening," he said, "so doing it around a holiday that centers around gratefulness and giving made sense."
In 2003, Isay started StoryCorps with one recording booth in New York's Grand Central Station. He had conducted the first interview with his great uncle Sandy, a quiet gentleman who talked about his first date with his wife. Isay figured that if his great uncle could open up and treasure that interview so much (listening to the recording of it over and over), the program would resonate with others. More than 65,000 interviews later (the largest collection of human voices in history), I think he was right.
And now StoryCorps aims to double that number of interviews … in one Thanksgiving weekend.
The organization has asked teachers across the country to help by assigning their students the task of interviewing grandparents or other elders over Thanksgiving. StoryCorps developed a teacher tool kit, and there have already been more than 10,000 downloads, so don't be surprised if your grandkids start asking questions. And if they don't—why not download the app yourself and get them involved?
I wish I'd had the app years ago to record my grandparents' stories, and even more recently for my sister, Karen, and Mom, who have both passed on.
Dad has Alzheimer's disease, and even a year ago he would have been able to share some of his memories that are now rapidly disappearing. But I decided to try out the new app with him anyway, focusing on songs Dad can sing, expressing my love and just shooting the breeze. His personality still shines through at moments, and I'm grateful for these recorded memories.
Now I'm hooked, and I anticipate many more interviews to come. (Listen to one of our interviews, below, and follow me in the StoryCorps community here to listen to more.)
I found the app easy to download and use on a computer, smartphone or tablet. If you don't have a device, borrow one—you can still set up your own account. Go to the App Store, Google Play or storycorps.me to create an account. There are helpful user guides, suggested questions and interview tips. The app also has a built-in tool to create your own customized list of interview questions to make things go smoothly. Use the hashtag #TheGreatListen to share on social media such as Twitter and Facebook.
Get discounts on prescriptions, health exams, eye care and more — AARP Member Advantages »
I believe everyone has valuable stories to tell, and that sharing them allows us to realize how much we all have in common. So perhaps the thing I like most about the new mobile StoryCorps app is that instead of using our electronic devices to zone out and disconnect from those around us, we can use technology to help people listen and connect with each other—face-to-face and from the heart.
Amy Goyer is AARP's family, caregiving and multigenerational issues expert. She spends most of her time in Phoenix, where she is caring for her dad, who lives with her. She is the author of AARP's Juggling Life, Work and Caregiving . Follow Amy on Twitter @amygoyer  and on Facebook .
Also of Interest

See the AARP home page for deals, savings tips, trivia and more.