Wanted: A Family for Christmas
By Amy Goyer , December 23, 2013 05:41 PM
Christmas is traditionally a time when families gather. Sure, all families are imperfect; we all have disagreements and conflicts. But for most, the love is still there and holidays are special times.
For many, however, there are no good memories of Christmas mornings or good-natured squabbles over holiday plans. There is, essentially, no family.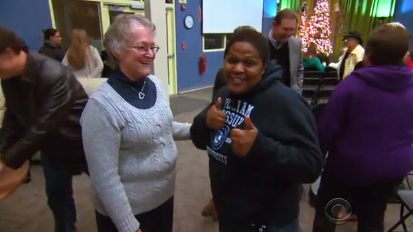 CBS News recently aired this story about Jackie Turner, a student at William Jessup University, near Sacramento, Calif. Jackie was facing another Christmas with no family. She decided to place an ad for a mom and dad for Christmas; she wanted, at least for a couple of hours, to be "the light of their lives." Her quest grew into something much bigger.
It touched my heart so deeply on so many levels I wanted to share it with you.
Perhaps this story means so much to me because my mom died just 10 weeks ago and I'm missing her so terribly this holiday season. I'd give almost anything for one more Christmas with her. All my life, Mom made a regular practice of leading us in opening our hearts and home to college students and others who didn't have family, or couldn't be with their families for holidays. She taught us that there is more than one definition of family.
"Show Us Your Modern Family" Photo Contest. Upload your photo for a chance to be photographed in AARP The Magazine. See official rules.
Jackie Turner has opened herself to the light of love this year and in doing so - without even trying - brought that broadened definition of family to so many this Christmas.
May your holidays be bright, and may you treasure every moment with those who light up your lives ... and maybe share that light with a few who are missing it this year.
Photo Credit: CBS News/YouTube
Amy Goyer is AARP's Family, Caregiving & Multigenerational Issues Expert; she splits her time between Washington, D.C. and Phoenix, Ariz. where she is caregiving for her Dad who lives with her. She is the author of AARP's Juggling Work and Caregiving. Follow Amy on Twitter @amygoyer and on Facebook.
Also of Interest

See the AARP home page for deals, savings tips, trivia and more