Living Father's Day
By Amy Goyer , June 13, 2014 05:20 PM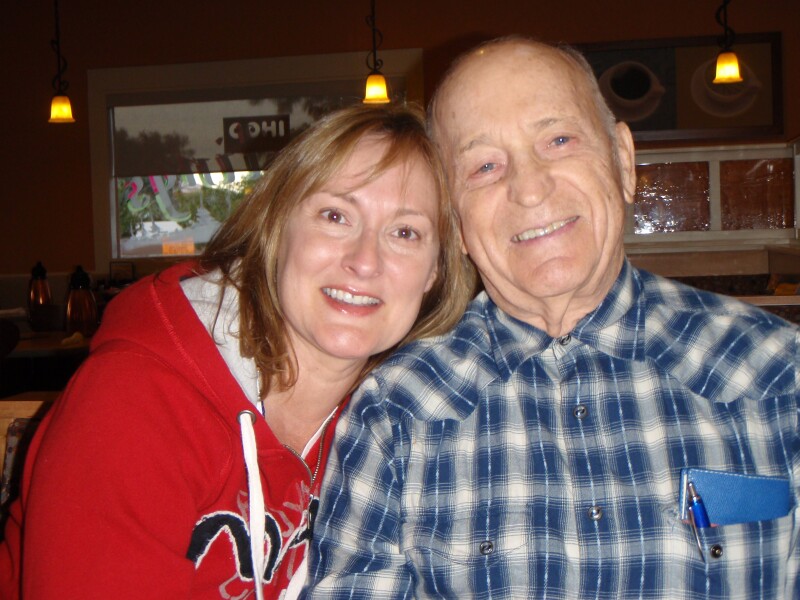 I don't usually leave Daddy for long. But this time a series of work commitments - and a high school reunion - means I'll stay away from home for 19 days. Although my sister Linda is going to be with Daddy for most of that time, it's still very hard to leave knowing he may change a great deal while I'm away, and that he will probably feel less safe and secure without my presence. He doesn't always know I am his daughter, but on a deep, basic level he knows me. While my head knows I'm doing the sensible thing, my heart is twisted in sadness.
When I scheduled this trip, I didn't realize I would miss Father's Day with Dad. I have put a great deal of effort into spending holidays with my parents, especially over the past five years of intensive caregiving. Mother's Day was hard this year with Mom gone; I was so glad I spent it with her last year. Now I'm going to miss spending Father's Day with my dad. I can't help wondering if this could be Dad's last one, or - with his Alzheimer's disease progressing more rapidly since Mom died - if next year he won't appreciate being showered with love and gifts and attention.
But that thought led me to this realization: Every day is Father's Day for me. I honor my Dad and "be-gift" him every day. I give him the things that mean the most to him right now: my constant time, attention, devotion, care, consideration and deep love and affection. I surround him with the gift of music. I do my best to arrange his days to ease his stress and anxiety as it becomes more difficult for him to navigate daily life. I have rearranged my life to ensure he feels secure and loved and is well cared for, even if I'm not providing the care all the time. I have done for him what he did for me.
>> Share tips for caregiving with others like you
I live my love for him.
I am with Daddy the majority of the time, but I can't be with him every day. I know that I honor both my parents with my work around caregiving. These things make me feel a bit better about missing Dad's big day. But I still wish I could clone myself.
The day before I left, I told Dad I would be away a long time. He had a very sad moment and said, "Oh no, please don't go away for a long time!" My heart wrenched when I saw his forlorn look and heard the desperation in his voice. I told him the time would pass quickly, and that I would call him every day. It didn't seem to make him - or me - feel any better, though.
Later that night, as I went through my bedtime ritual with Daddy, massaging his hands and head with lavender oil, reading to him and saying our prayers, I whispered again that I'd be leaving in the morning for a work trip. I could see that he was fully relaxed and comfortable. He was absorbing my love like a sponge. He smiled and told me to have a good trip. "I'm proud of you, kid," he said with a grin. My heart simultaneously sang and melted. I'm so proud of you too, Dad.

Amy Goyer is AARP's family, caregiving and multigenerational issues expert; she spends most of her time in Phoenix, where she is caregiving for her dad who, lives with her. She is the author of AARP's Juggling Work and Caregiving. Follow Amy on Twitter @amygoyer and on Facebook.