TEDMED's Great Challenges Day Addresses Caregiver Crisis
By Amy Goyer , May 02, 2013 09:00 AM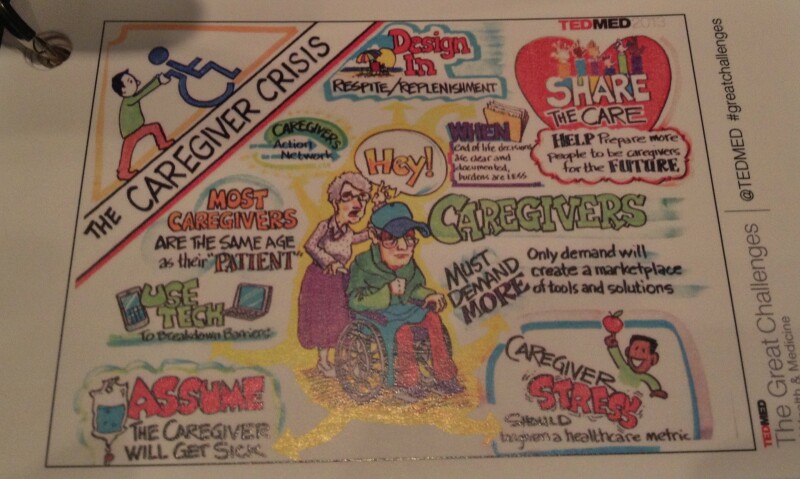 Recently, I participated in the first TEDMED Great Challenges day which addressed 20 great challenges (see my previous post about the Dementia Tsunami, one of TEDMED's Great Challenges). I participated in a breakout group of about 20 people who rolled up our sleeves and dove into a discussion of the " caregiver crisis." It was an afternoon full of passion and spirit among all contributors. Many of us are or have been caregivers; others approached the topic from a business viewpoint (those who have products for caregivers or work with businesses whose employees may be caregivers); others were with organizations that support and advocate for caregivers.
Several participants shared their personal caregiving stories - Suzanne Mintz, who heads up the Caregiver Action Network, talked about caring for her husband who has multiple sclerosis; Dr. Barry Jacobs, a psychologist who works with doctors, families and caregivers, talked about his father's brain cancer and how it affected his family when he was a teenager. (Dr. Jacobs is also a fellow blogger here on AARP.org and a member of the AARP Caregiving Advisory Panel.)
Please visit the AARP Caregiving Resource Center for useful resources
As a group, we worked through a facilitated process to attempt to answer these questions: What needs to happen to move this issue forward? What partners need to be involved? Is there a national call to action? What are the "pain points" (challenges or problems)? Who are the stakeholders? Stakeholders identified included:

Care recipients
Medical community
Policymakers
Employers
Service providers
Community agencies
Insurance companies
Those who interact with caregivers and care recipients (coworkers, friends, neighbors, etc.)
As we hashed out the various aspects of caregiving and delved a little into possible solutions, I realized these are the same discussions I've been involved in for many years. But, at least for me, the most impressive aspect of what TEDMED is doing is their effort and ability to look at major issues from new viewpoints, applying different ways of thinking. For example, they encouraged us to look at the caregiving crisis in terms of how totally disparate organizations might approach it if it was their challenge: The Marine Corps ... and Starbucks! This approach certainly encouraged creativity.
I look forward to TEDMED's report on Great Challenges day ... and will share it with my readers when it is available!
Did we solve the caregiver crisis in one afternoon? No. Did it bring together people who might otherwise have never talked together about this issue? Absolutely. Could it jump-start collective energy around addressing the issues of caregivers? I think so - and I hope the discussion will continue. Check out the TEDMED Great Challenges Caregiver Crisis Discussion board, and I encourage you to participate. Your perspective is valuable - share it!
Photo Credit: Amy Goyer
Amy Goyer is AARP's Home & Family Expert, specializing in caregiving, grandparenting and inter/multigenerational issues; she splits her time between Washington, D.C. and Phoenix, Ariz. where she is the caregiver for both of her parents who live with her. Follow Amy on Twitter @amygoyer and on Facebook.
Also of Interest

Join AARP: Savings, resources and news for your well-being
See the AARP home page for deals, savings tips, trivia and more