All I Want for Christmas Is … a Little Kindness for This Caregiver
By Amy Goyer , December 09, 2015 12:00 PM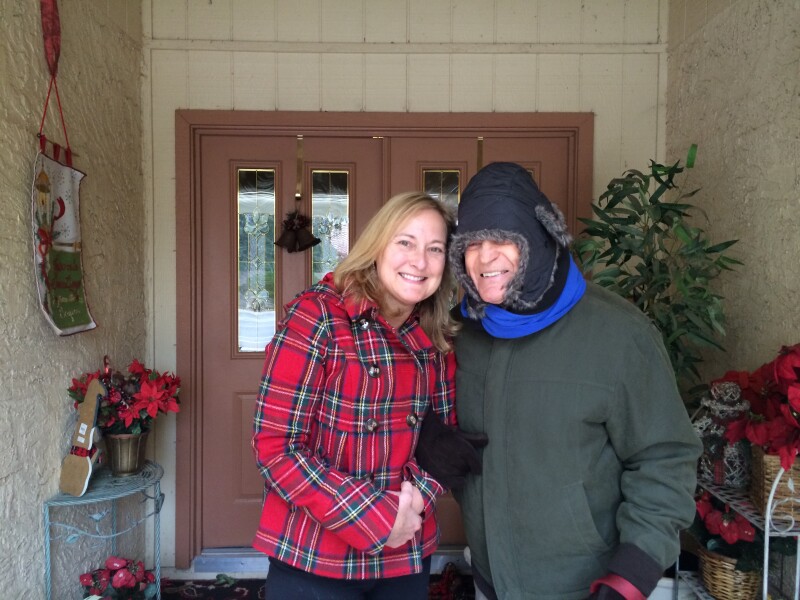 I recently had the great pleasure of representing AARP on The Doctors to share some of my top caregiving tips, give away copies of my new book, Juggling Life, Work and Caregiving and tell everyone about AARP's Random Acts of Kindness for Caregivers contest. (You can watch the segment, below.) It made me think about what I really want for Christmas this year and it's exactly that: small kindnesses that free my time, nurture my soul and minimize the stress of the holidays while maximizing the joy.
Organize and privately share crucial info with family and caregivers — Download AARP's Caregiving App »
In that spirit, I decided to dig deep this year and share the things — realistic and not — that I'd love to receive, hoping that other caregivers will do the same. So here goes …
Top 10 Things I Want for Christmas:
10. A million dollars. Just kidding. Well … maybe not completely kidding. The financial stresses of caregiving have me on my knees like so many other caregivers, so I'd be lying if I said it wasn't on my Top 10 list! If I can't have a million bucks or a miracle, how about gift cards for groceries, restaurants that deliver or online shopping sites? Or even treats like coffee shop gift cards?
9. Help with holiday stuff. Trimming the tree, stringing the lights and hanging the stockings: These are all things I want to do to create a joyful atmosphere in my home for Daddy. But geez, how do I find the time? Some willing, helping hands would make these jobs easier and more fun.
8. A hot meal. It's a huge relief when I don't have to plan or cook a nutritious meal that Daddy will actually eat. Simple is fine. And if it involves easy cleanup afterward, even better.
7. Holiday picture and cards. It would be lovely to have someone take a really nice photo of our family to have greeting cards made, then address and mail them. It's a lot to ask, but I haven't had time to send holiday cards in years.
6. A personal shopper. I often think about the free time I'd have if I wasn't always rushing to the store between work and caregiving. How about picking up a few things for us when you go to the store? Bonus points for throwing in some fresh flowers.
5. Return purchases. I must have 10 things I've bought that need to be returned, exchanged, fixed or otherwise taken care of. There will likely be more after Christmas. Can someone return them for me? It would take me all day, but if five friends each take two items it's not such an overwhelming task.
4. Two months of filled pill organizers. Seem like an odd request? It takes hours to get the meds organized and we fill them two months at a time. It goes much faster with another pair of hands. Help with other household or caregiving tasks like cleaning, doing laundry, changing bed linens or even yard work would be great, too. Then maybe we'd have time to do something fun together.
3. Peace of mind. When I know that Dad is content, well cared for and safe, I can better focus on the other parts of my life. Someone coming to care for, read to, sing with or otherwise happily occupy Daddy frees me to do other tasks of caregiving (and my own life). I don't even necessarily have to leave the house.
Get discounts on prescriptions, health exams, eye care and more — AARP Member Advantages »
2. Two uninterrupted weeks at a spa. OK, if you can't give me that, how about a gift certificate for a massage, facial, mani-pedi, float spa or other self-care experience that will help me relax and reboot? And remember backup care for Dad so I can find the time to actually use the gift certificate!
And the No. 1 thing I want for Christmas: understanding and encouragement. This may come in the form of a cup of coffee and the patient ear of a friend or family member when I'm feeling like I'm going to implode. It can also simply be a kind comment on Twitter or Facebook or here on my blog, or a greeting card that acknowledges my challenges and expresses faith in my ability to forge ahead. Caregiving can sometimes be a lonely experience; knowing I have support means the world to me.
I hope this gives my fellow caregivers ideas of what to ask for this year — and gives the rest of you ideas for acts of kindness to offer as gifts for the caregivers in your lives. I plan to offer some kindnesses to other caregivers I know, too.
Meanwhile, I'll let you know if the $1 million shows up!
Amy Goyer is AARP's family, caregiving and multigenerational issues expert. She spends most of her time in Phoenix, where she is caring for her dad, who lives with her. She is the author of AARP's Juggling Life, Work and Caregiving . Follow Amy on Twitter @amygoyer  and on Facebook .
Also of Interest

See the AARP home page for deals, savings tips, trivia and more.