Free Film Screenings for National Caregivers Month
By Amy Goyer , October 29, 2015 09:00 AM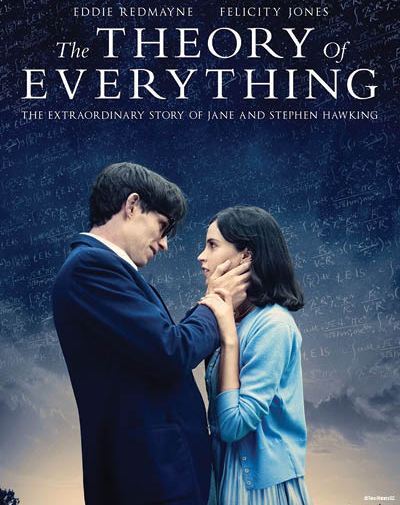 I'm pleased to report that many AARP state offices are hosting free screenings across the nation next month of The Theory of Everything, the 2014 film about astrophysicist Steven Hawking's early struggle with ALS. It's part of AARP's efforts to highlight November as National Family Caregivers Month, in conjunction with the organization's I HEART CAREGIVERS initiative. (Check with your AARP state office to find out if there is a screening near you.)
It's a wonderful film, but if you're a caregiver, like me, you may feel some mixed emotions while watching this movie.
Organize and privately share crucial info with family and caregivers — Download AARP's Caregiving App »
It depicts Hawking (played by Eddie Redmayne) and his wife, Jane (Felicity Jones), when he's diagnosed with ALS, a motor neuron disease, at age 21. He's given two years to live but defies that prognosis and goes on to become a groundbreaking scientist, professor and best-selling author, despite his eventual physical decline.
As Jane partners with him to battle the disease, they adapt their lives and raise a family while Hawking voraciously focuses on his scientific quest to find an all-encompassing "theory of everything."
It hit very close to home when I saw it last year on a rare date night with my boyfriend, Bill. As a caregiver for my dad, who has Alzheimer's, I rarely get time alone with Bill, so I was thrilled that we had an evening together for dinner and a movie. I didn't realize that the movie would bring my focus right back to my caregiving journey.
In truth, it was at times painful for me to watch.
So many of Jane's challenges mirror the experiences of millions of other caregivers, including me. I identified so deeply with their interpersonal struggles and the detrimental effects on their relationship (even when not caring for a spouse, we caregivers will attest that our closest relationships suffer). Their frustrations at sometimes feeling powerless against a disease and their sense of grief and loss are very real emotions I have felt all too often.
The film adeptly lays out the sacrifices Jane makes and her sense of losing herself in caregiving, which are very sensitive issues I have dealt with for many years as I have adapted my life to meet the needs of my family. I saw my parents' caregiving journeys reflected in the film too: Mom's incredible resolve to continue living and learning despite a major stroke; Dad's struggle to care for her for more than 20 years, only to be thwarted by Alzheimer's in the end himself.
At the same time, the Hawkings' sheer determination and ability to celebrate even the smallest triumphs were inspirational and hopeful. I felt validated as I watched, because it made me see those qualities in myself as a caregiver. I know that my own dogged willpower and resiliency, dedication and strong desire to create and notice joy in my caregiving experience have made a real difference for my loved ones and myself.
Get discounts on prescriptions, health exams, eye care and more — AARP Member Advantages »
While the film wasn't exactly what I had planned for my "getaway" from caregiving with Bill that night, I'm glad we saw it. I'm especially happy that the film raises awareness of the complex challenges faced by millions of family caregivers.
Amy Goyer is AARP's family, caregiving and multigenerational issues expert; she spends most of her time in Phoenix, where she is caring for her dad, who lives with her. She is the author of AARP's Juggling Life, Work and Caregiving . Follow Amy on Twitter @amygoyer  and on Facebook .
Also of Interest

See the AARP home page for deals, savings tips, trivia and more.