Simple Hearing Device Makes Big Difference for Dad
By Amy Goyer, February 04, 2016 09:00 AM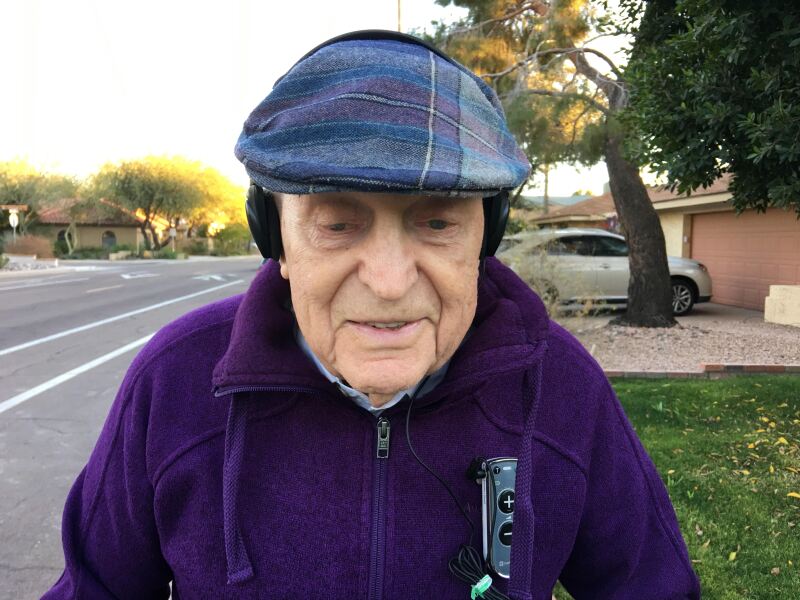 When Dad was diagnosed with Alzheimer's disease, I knew he would need all of his senses to help interpret the world around him and balance his changing cognitive abilities. But he has hearing impairment and limited vision (glaucoma plus visual-processing problems associated with Alzheimer's). Even though there is only so much I can do about the visual issues, I assumed hearing aids would solve his auditory problems. I was wrong. The good news is that we eventually discovered a surprisingly simple solution.

First, I found out that although Dad's health insurance wouldn't cover expensive hearing aids, the Department of Veterans Affairs would cover 100 percent of the cost. He receives veterans Aid and Attendance benefits but hadn't been enrolled in VA health care. I began the process of getting him enrolled, which took months to accomplish.

Organize and share crucial info with family and caregivers — Download AARP's Caregiving App »

In the meantime, I took him for a hearing exam (outside the VA system because the exam was covered by his insurance). Exams can be tricky for someone who lives with Alzheimer's, so we were paired with a technician who had experience with dementia. Dad was having a good day, and the technology made it fairly easy; he understood the instructions to push the button when he heard a sound and, with a lot of reassurance, did quite well.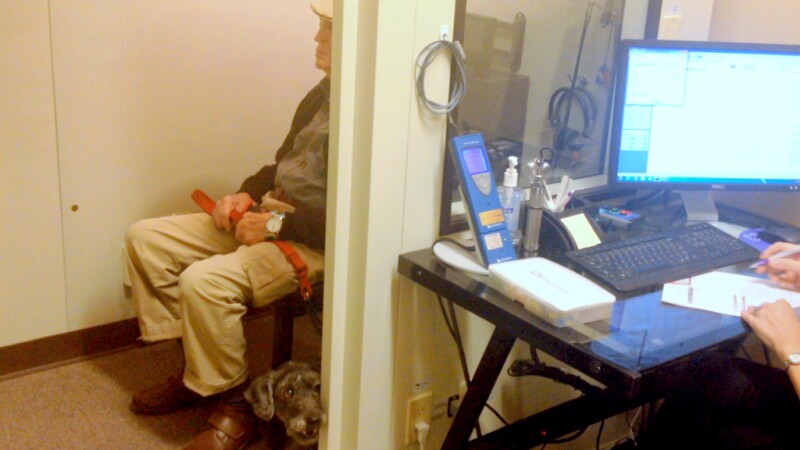 Once I finally got Dad enrolled with the VA, we were told he needed to have another hearing exam. I was relieved that the department's audiologist was patient and kind with Dad, who was a little more confused by the process this time. The most stressful part was when he had to wait 15 minutes with silicone putty in his ears, to make the ear molds. I gave him a gentle shoulder massage, and he got through it.

Finally, I thought, we were almost there!

The audiologist said it would take several more weeks for the top-notch digital hearing aids to arrive, so she gave Daddy a comfort audio hearing amplifier to use temporarily. These devices are sometimes called a pocket talker, wearable hearing device or personal sound amplification system (PSAS). Dad's consists of headphones and a cord attached to a small microphone that clips to his pocket. The microphone has large buttons to easily adjust the volume.

Much to my surprise, wearing the equipment didn't bother Daddy a bit. We immediately observed an improvement in his interactions with us and his ability to follow directions, which meant less anxiety for him. Priceless!

But once the hearing aids arrived, he couldn't tolerate them at all. He didn't like the way they felt in his ears and couldn't understand why he needed them. The volume was always too loud or too soft and upset him so much.

Our efforts were not wasted, however: We ended up keeping the hearing device the VA gave Dad (at no cost), and he loves it. For almost two years now, he has never complained about it and is always grateful when we put it on in the morning. Another plus is that it's big enough that it isn't easily lost, like hearing aids often are (especially by those with dementia). We just place it in the charging cradle every night, keep the headphones connected to it, and in the morning it's ready to go.

The clip has broken twice because it is hard to clip on when Dad's jacket doesn't have pockets (the VA has simply given us new devices). But I recently found a magnetic eyewear holder we can affix to his jacket and then clip the microphone to it. The comfort audio device can also be retrofitted with a neck loop and adapted for the phone or television. In addition, I got Dad a separate wireless listening device used specifically for television.

You can see Daddy using his PSAS in my videos, especially this video , which outlines music apps I use with him.

Get discounts on prescriptions, health exams, eye care and more — AARP Member Advantages »

I get lots of questions about what Dad is listening to through his headphones — many people assume it's an MP3 player. I tell them no, he does have an iPod he listens to sometimes, but most of the time he's actually listening to, well, everything!

You can find a wide range of PSAS hearing devices similar to the one Dad uses through your audiologist or Veterans Affairs, or you can search online for "personal sound amplification system" or "wearable hearing device"; the price range is generally between $100 and $350. These devices do not require a prescription.

Amy Goyer is AARP's family, caregiving and multigenerational issues expert; she spends most of her time in Phoenix, where she is caring for her dad, who lives with her. She is the author of AARP's Juggling Life, Work and Caregiving . Follow Amy on Twitter @amygoyer  and on Facebook. F or ongoing caregiving support from Amy and AARP text AMY to 97779.

Also of Interest

See the AARP home page for deals, savings tips, trivia and more.