Why Is AARP at the Consumer Electronics Show?
By Patti Shea , January 06, 2013 09:36 PM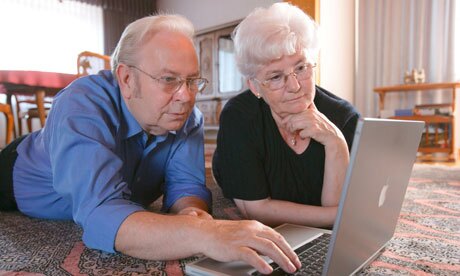 Editor's note: The following is a guest post from Bob Stephen, head of AARP's Home & Family portfolio, which focuses on caregiving and home technology. Bob will speak at CES this year.
At AARP we know that family is a key driver of happiness for the 50-plus population and 9 of 10 Americans who are 50 or older want to stay in their home or community. These facts are among those that drive what we look to achieve - and helped shape our experience at the Consumers Electronic Show (CES) last year.
We were very interested in technology related to four areas:

Enabling those 50-plus to stay connected through consumer technology
Helping the millions of Americans who care for an older family member
Addressing the top two needs of grandparents relative to their grandchildren - i.e., increasing time together and helping to guide them in life
Helping more Americans stay in their homes or communities (either through smart home products or technology that makes it safer for drivers)
Much of general consumer technology has the ability to meet needs related to caregiving, like connecting with grandkids and staying in one's home. Smart TVs are an example from 2012. Just about every manufacturer was showcasing its "smart TVs." These have great potential, since the 50-plus population watches TV more than just about any other age group and these TVs enable people to use a familiar piece of technology to stay connected to their family and friends. Unfortunately, the promise of smart TVs has not been realized; Wired recently highlighted problems with their complexity. This year we'll be looking to see if anyone has focused on the user experience to make it simpler for everyone to operate a smart TV.
Among 50-plus consumers, tablet adoption continues to increase at a fast pace, so we'll be watching for any advances that make tablets more accessible. With a tablet, anyone is able to access the Internet for news, mail and fun and can use video chat to stay connected with a grandchild or older care recipient. Several manufacturers attempted to produce specialized tablets last year - those just for kids or for care recipients. We'll be interested to see if this trend continues or if companies now recognize that consumers may be satisfying their needs with a general-purpose tablet.
3-D printing was one of the more intriguing areas last year. It showed us that this is not just a printing method for large research organizations but could be used at home in the future. We'll keep up on advances in 3-D printing to understand the benefits for the 50-plus, but we'll also look out for other emerging technology that could radically transform the ways in which 50-plus people interact with friends, family and their homes. It's already started to change the lives of kids with physical disabilities - read this fascinating story for more. 
Given the millions of caregivers in this country, it is not surprising that several products are aimed at this market. These range from full monitoring systems that check the health of a loved one to products aimed at a specific need, such as computerized pillboxes. These inventions have faced several obstacles in the past: lack of awareness, reluctance among caregivers, complexity and cost. This year we'll be watching to see how companies are addressing the last two issues.
From a grandparent's point of view, last year we noted items that might be valuable for grandparents to know about, either as a gift or as a way to stay connected with their grandchildren. While we saw many products with promise, we did not see many that were explicitly aimed at multiple-generation use. The exceptions were in the digital areas: games and books that promoted intergenerational play. In 2013 we'll again seek out products to highlight, but we'll have our eye on the companies that understand the value of working with the more than 60 million grandparents. Last year we encountered several companies that seemed to go out of their way to avoid talking to AARP; these were companies with solid products that would appeal to grandparents.
Finally, we want to see what advances have been made in both smart-house and safe-driving technologies. Examples of both were in evidence last year. What we're interested in now is the progress being made in making this technology more accessible. For houses, has cost come down, and are products simpler to use and install? For driving, cost and simplicity will also be key, but in addition, we'll be looking for after-market products that are available for the millions of cars already on the road.
- Bob Stephen