Caregiver Tax Deductions
By Sally Abrahms , March 07, 2012 08:00 AM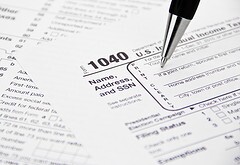 According to an AARP study, the economic value of U.S. family caregivers for their unpaid contributions in 2009 was around $450 billion.
What if there were a way to get tax credits for those good deeds? There might be. You may be able to claim your parent (or grandparent, stepparent, mother- or father-in-law, sibling, step-sibling or half-sibling) as a dependant on your tax return and reduce your taxable income by $3,700. If not, you might qualify for a deduction for money you spent on their medical expenses and care.
To claim a relative as a dependent on your tax return:

Their gross income must be less than $3,700 (excluding Social Security or disability payments). That includes income from rental income, withdrawals from retirement plans, interest and dividends from investments or pension benefits.
Your parent does not need to live with you to qualify.
You must be paying more than half their expenses.
They can't be claimed as a dependent by anyone else.
If there are other siblings also supporting your parent, (but none who pay 50 percent or more in support) and you spend at least 10 percent of their expenses, with expenses from all siblings combined at least half of your parent's yearly expenses-you can claim Mom or Dad as a dependent. Warning: only one sibling can take that exemption per year. It's called the " multiple support declaration."
Okay, your relative's gross income was more than $3,700, so you're out of luck claiming them as a dependent. Still, you might be able to take a deduction on their medical expenses:
To take a deduction on medical expenses:

Those expenses must be more than 7.5 percent of your adjusted gross income. Adding your relative's expenses to your own could bump you up to eligibility.
One more thing: the Child and Dependent Care Credit might be an option. If so, you would get a credit of up to 35 percent of the expenses paid for dependent care, with $3,000 expenses maximum. That would give you as much as a $1,050 tax credit. Do you qualify?

You must have earned income.
Your relative can't take care of him/herself (mental or physical limitations).
The recipient must be claimed as a dependent on your tax return.
Of course, it's more complicated than this, and I'm not an accountant, financial planner or IRS worker. But I've provided the outline and you have starting points. Now do your homework!
Photo by 401k via CreativeCommons.