Caring for Yourself and Your Loved One
By Felicia Brown , November 14, 2016 05:07 PM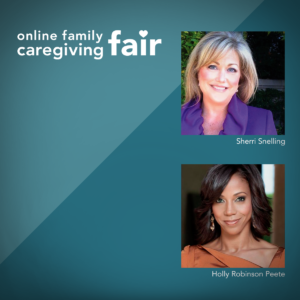 Becoming a caregiver can be overwhelming, especially when it happens suddenly and you are not fully prepared to embark on, unbeknownst to you, your caregiver journey. It can be like becoming a new parent. You are now responsible for ensuring that your loved one gets the best care and advice. You hear other people's stories of how they did it, read lots of how-to manuals, attend workshops and seminars, but you truly don't know until you experience it.
The impact of caregiving can be significant. The emotional and physical stress of caring for a loved one can be daunting and can even harm your own health. It can also greatly affect your finances and career, resulting in lost wages because of missed time at work or even the need to leave workforce entirely.
AARP is here to help! Join our live Online Family Caregiving Fair on Thursday, Nov. 17, from 11 a.m. to 4 p.m. ET. You can connect with organizations, access resources and chat one-on-one with other caregivers to gain support. Nearly 20 government agencies and nonprofit organizations will be available, as will information about AARP's programs and resources, such as the Caregiving Resource Center and Prepare to Care , a planning guide for families. You can also gain valuable information about managing your health, finances and legal matters.
During this online event, there will be live webinars on "Understanding Medicare," hosted by the Centers for Medicare and Medicaid Services (CMS), and "Financial Tips for Caregivers," with Lee Baker, AARP Georgia state president and a certified financial planner. There also will be a live webinar with Sherri Snelling, CEO of the Caregiving Club, and actress and advocate Holly Robinson Peete, best known for her roles in 21 Jump Street and Hangin' with Mr. Cooper. Peete will discuss juggling caregiving and work, facing hurdles as a family caregiver and balancing caring for yourself while caring for a loved one.
New at this year's fair will be caregiving experts from Zeta Phi Beta Sorority, who will discuss their long-distance caregiving and eldercare initiatives and programs, SAGE and the American Cancer Society. Returning are representatives from the CMS, the Social Security Administration and the U.S. Department of Veterans Affairs , to name a few.
You can access the fair from the comfort of your home — all you need is a computer and a network connection. Registration is free. Sign up at www.aarp.org/familycarefair and share this opportunity with family, friends and especially other caregivers. You can also download transcripts of the scheduled chats to review later. Don't miss this worthwhile event. You will find it informative and rewarding.
Do you know someone who is providing exceptional acts of care? Go to www.createthegood.org/25days25ways to nominate someone deserving of this award. Then share your submission on Facebook and Twitter to get votes for your nominee. Each day there is a gift card winner. At the end of the contest, the best video selected will win $2,500 donated to the charity of the winner's choice.
AARP helps people turn their goals and dreams into real possibilities , strengthens communities and fights for and equips Americans 50 and older to live their best lives. Discover all the ways AARP can help you, your family and your community at AARP.
Photo: AARP
Also of interest:
Get answers from one of our caregiving experts
Legal preparations for caregiving