Extraordinary Elders: Carolyn Jackson
By Amy Goyer , April 21, 2011 04:32 PM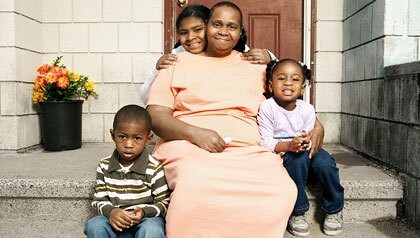 I often meet elders who really blow me away with the things they do - their dedication to causes, their countenance and attitude and their hard-earned wisdom. I use the term "elders" because I believe it does not imply any specific age - it simply refers to people who are "older than you" who are valued for their influence and personal accomplishments in their families, communities and in society in general. It signifies respect for those who've forged the path ahead of us. In this blog, I will introduce you to some of the fantastic elders I meet. I hope they inspire you as much as they inspire me.

Carolyn, a 55 year old grandmother, is one of six grandparents highlighted in my column this month, Grandparents on a Mission. I've known Carolyn for many years and she is one of those people who I marvel at - how does she keep on going despite all the set-backs? She founded Grandparents on the Move, a school-based support group for grandparents raising grandchildren in New Haven, CT. With up to 60 grandparents attending monthly meetings, it's one of the largest ongoing support groups I've come across.
Carolyn knows first-hand about the challenges these grandparents face - she's been raising 3 grandchildren herself for over 10 years. One is her son's child and the other two are not, but they share the same mother, who has been in and out of the criminal justice system. One child was born drug-addicted. Carolyn has struggled with enormous legal, health, emotional and lifestyle issues. "The wear and tear on your body and mind is unbelievable. I thought I was free at last and all of a sudden here comes a little child who changed everything."
Retired after 23 years in the New Haven school system, she has suffered two strokes...and yet she keeps on persevering on behalf of grandparents and grandchildren.

 "We can't stop now - most of our grandchildren are still young and we still need services and help and resources - it hasn't ended yet! There will always be a new challenge - health issues, college education..."
GrandRally
Carolyn was determined to lead New Haven grandparents to Washington, DC to take part in national GrandRally on Capitol Hill events to raise awareness about the roles they play and their grandchildren's needs. With support from AARP CT and other local partners and businesses, they raised enough money to pile into buses and go to Washington, DC - not just for the first GrandRally in 2003, but again in 2005 and 2008.

"It changed everything - we found out we were not the only ones and we had a voice."

And this September, when the 4th national GrandRally is held on Capitol Hill, I have no doubt that Carolyn and the Grandparents on the Move will be there making their voices heard, driven by their love for their grandchildren and their passion to give them a better life.