Does your state support services for older Americans, family caregivers?
By Elaine Ryan, April 20, 2015 10:50 AM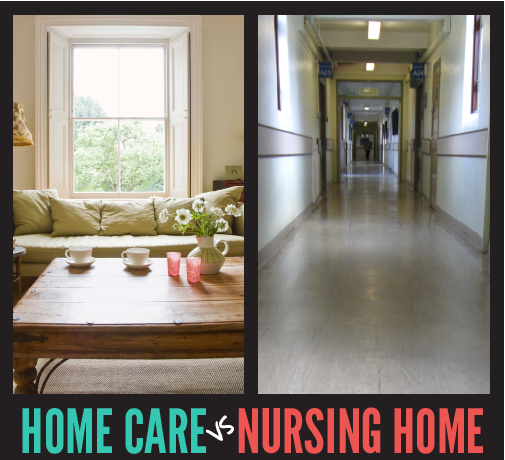 Family caregivers provide an estimated $450 billion in unpaid care annually, helping their older parents, spouses and others to live independently at home—and out of costly institutional care, often paid for by Medicaid. But now, in a number of states as governors and legislatures negotiate their state's annual budgets, critical assistance on which family caregivers and their loved ones rely on is at risk. Proposed cuts to home care, adult day services, meals-on-wheels and more have real consequences for families. Take Barbara and Steven.

Steven suffered a brain stem hemorrhage eight years ago. He can no longer walk, bathe, dress, eat or use the bathroom without assistance. His wife, Barbara, cares for Steven while also working full time. She said:

"It is difficult enough to be a caregiver all these years but still I would rather care for my husband at home rather than put him in a nursing home."

To make this goal a reality the couple relies on key services, provided by their state government through Medicaid, at home and in the community—specifically nurses to help with medical tasks and home health aides to stay with Steven while Barbara's at work. For other caregivers, such assistance may include respite care and training, or personal care for their loved ones such as help with bathing and dressing.

Cuts to these vital services jeopardize the ability of family caregivers to help their older loved ones remain at home, and could even force our seniors out of their homes and into more expensive institutional care.

Not supporting services to help family caregivers and their loved ones makes little sense to me:

First, living at home is what the vast majority of older Americans want.
Second, care at home and in the community is one third the cost of institutional care, often paid for by Medicaid.
The fact is: It makes smart fiscal sense to support family caregivers as they help their loved ones remain at home—where they want to be. My home state of New York recently stepped up and increased services provided at home and in the community to support family caregivers and their older loved ones; this after AARP New York fought back budget cuts and advocated for such commonsense enhancements to services for years.

But, we have more work to do. In states across the country, support for older Americans and their family caregivers remains at risk. That's why AARP is fighting in Alabama, Connecticut, Maine, Missouri, Oregon, Wisconsin, and elsewhere to make sure the key services that seniors remain at home are available, accessible and affordable.

I ask you to help us fight for you and your loved ones—to make your voice heard. Visit I Heart Caregivers to learn more.


---
Elaine Ryan is the vice president of State Advocacy and Strategy Integration (SASI) for AARP. She leads a team of dedicated legislative staff members who work with AARP state offices to advance advocacy with governors and state legislators, helping people 50-plus attain and maintain their health and financial security.

Follow Elaine on Twitter: @RoamTheDomes.