Elder Abuse Awareness Day: 7 Ways You Can Help
By Steve Mencher , June 14, 2013 01:46 PM
It's easy to miss elder abuse.
Austin, Texas. Mid-1980s. I'm sitting at lunch with a casual friend, who is living with and taking care of her mom. Mom is slack-jawed, with a vacant stare, but she knows what she wants: her portion, and more, of the french fries she's sharing with her daughter.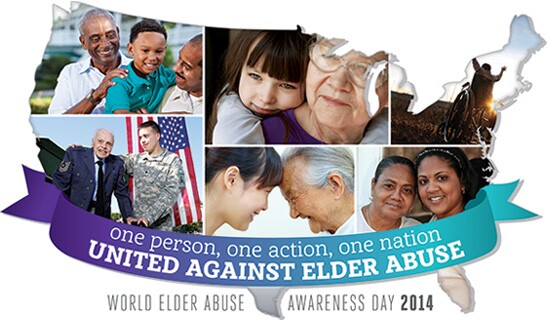 As mom reaches for one more fry, my friend's hand flashes out, spearing her mom's hand with a fork. Mom's reaction is much quieter than it should be; my friend shoots me an embarrassed look that says, "I've reached my limit." I sit back, quiet, unnerved, not quite sure what I've just seen. Now I know.
Which brings me to World Elder Abuse Awareness Day, marked this year on June 15. Beyond the platitude of "If you see something, say something," let me honor my long-forgotten friend, and especially her mom, by sharing these seven ways you can fight elder abuse.



Learn what elder abuse is, even if you think you already know. Is an elder you know becoming more withdrawn? Has criticism or disrespect suddenly escalated in the relationship of a long-time couple, or child and parent? Find the warning signs of elder abuse at the HHS Administration on Aging.

Help elders in your life be smart with their money. Billions of dollars are stolen from older Americans each year, and as AARP personal finance expert Lynnette Khalfani-Cox has written, financial abuse is "more likely to come at the hands of family members and caregivers" than strangers. The Federal Deposit Insurance Corporation and the Consumer Financial Protection Bureau, have a curriculum called "Money Smart for Older Adults."

Offer respite for friends and family who are caring for elders. If someone in your family is shouldering the burden of caregiving, then find ways to help. If you're a primary caregiver, here are tips for managing stress.

Think not only outside the box, but outside the country. HelpAge USA, a group that sometimes partners with AARP on international initiatives like helping the victims of Haiti's devastating 2010 earthquake, has launched a program to fight elder abuse in developing countries, where laws may not protect older people.

Closer to home, volunteer for a group that helps fight elder abuse. AARP's Create the Good makes it easy to volunteer, giving you a chance to enter your location and interests and see opportunities in your community. Since 1988 a group called TRIAD, with chapters all over the country, has fostered cooperation between seniors and law enforcement, offering many opportunities to volunteer.

Make noise. Elder abuse is under-reported and largely hidden from view. But we can change that. Learn about the places in your community that care for elders and find out what standards they need to meet. During the next local election, ask candidates how much they know about elder abuse and what they plan to do about it.

Pick up the phone, or a pen. If you've gotten out of the habit of calling and writing the older people in your life, recommit to staying in touch. Learn where your older neighbors are, too, and get a sense of how they're doing, and how you can help.