Faces of Hunger in America
By Guest Blogger , November 18, 2013 06:27 PM
AARP Live - November 21, 2013
Guest blog post - Charlotte Whittaker
I've seen the faces of hungry seniors across west Kentucky. While working as the Director of the Ohio County Senior Center, I saw first-hand how vital a simple home delivered was to these seniors. As a daughter of a rural Baptist preacher, I was taught at an early age the true meaning of compassion. I was also taught that compassion wasn't enough; I had a duty to help others in need and make a difference.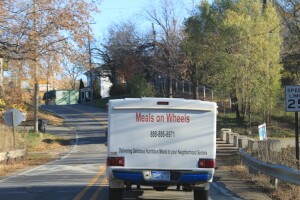 It was individuals in my hometown like a couple that pushed me to begin focusing my efforts and advocacy for increased funding for home delivered meals. I began inviting Kentucky's state and federal officials to ride along on the meals routes. It was important that they see the faces of those folks that programs like these are helping to feed the hungry every daily in my county.
On one home visit with my County Judge, we were delivering food baskets during the Holidays. One elderly couple grabbed raw chicken and began eating it. We explained to them how important it was to their health to take the time to cook the chicken thoroughly. I knew this couple needed extra care and attention and I made certain they were added to the county's home delivered meals list immediately.
>> Sign up for the AARP Health Newsletter
Over time, they were able to see how a care plan comes together to help fight hunger and keep seniors in their own homes longer. With the help of my County Judge, we were able to build programs like meal delivery, home health, visiting nurses and transportation services to make a difference in the lives of our Kentucky seniors.
Hunger is a growing problem, and not just in Kentucky. Hunger is not limited to age, race, or where you live. Nationwide, from 2001 through 2009, the number of people age 50 and older struggling with hunger or lacking sufficient nutrition and food resources rose by almost 80 percent. Now, nearly 9 million Americans 50+ are at risk for hunger every day. Thankfully, AARP is working to make a difference.
AARP and AARP Foundation created Drive to End Hunger in 2010 to raise awareness about hunger among struggling Americans 50+ and to develop long-term, sustainable solutions in every state. In 2011, AARP became NASCAR's first cause-based primary sponsor with Drive to End Hunger featured on the No. 24 Chevrolet driven by Jeff Gordon. The effort raises the visibility of hunger while collecting cash and food donations in NASCAR race markets across the country.
Since Drive to End Hunger launched, the initiative has donated more than 13.4 million meals. Drive to End Hunger also helped thousands of people put food on the table through enrolling in the USDA's Supplemental Nutrition Assistance Program (SNAP), generating $13 million in local economic activity. Based largely on the initiative's NASCAR program and with Gordon as its spokesperson, Drive to End Hunger has worked toward building awareness of older adult hunger with a message that has connected with people more than a billion times, and engaged more than 30,000 grassroots volunteers to help people at risk of hunger.
AARP is helping hard-working, trusted organizations in communities across America who have been doing a heroic job helping hungry people age 50+. Because the number of people in crisis is still growing, it's a challenge to reach everyone and ensure people know where to find help. AARP is working side by side with organizations nationwide so the Drive to End Hunger can reach more people and make resources go further. But we need your help.
>> Get discounts on financial products and services with your AARP Member Advantages.
You can learn more and join with AARP and AARP Foundation to be part of the solution and fight senior hunger in America by calling 1.855.DTEHNOW (toll-free) or visiting, www.drivetoendhunger.or
You can watch AARP Live! on RFD-TV (click here for "by ZIP code" channel locator) our streaming live at http://www.aarp.org/rfd or on Facebook at www.facebook.com/aarp. Join the conversation by calling the show live 1-877-731-6733 or Tweet us your questions @AARPLive.

Also of Interest

See the AARP home page for deals, savings tips, trivia and more